Why Hire a Professional for Fireplace Installation
Posted in Gas Fireplace Installation, on September 13, 2022
With a plethora of tutorials & information available online, you may be tempted to try the DIY installation route for your new fireplace. While it may seem like a fun, cost-effective choice for your home renovation, gas fireplace installation is tricky. With the installation requiring a mix of plumbing, wood, and electrical work, it can be challenging for even an experienced homeowner or DIY expert.
Professional installation is the safest way to avoid mistakes and the need for gas fireplace repair in future. If you need help installing your fireplace safely, Fireplace Experts offers a range of gas fireplace services. Here are just some of the reasons you should avoid DIY fireplace installation.
Safety First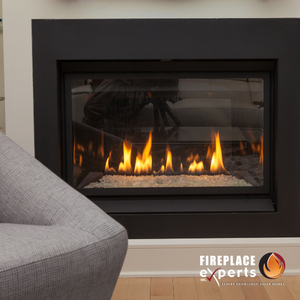 Fireplace installation requires a high degree of knowledge and precision—there's no room for mistakes. Mishandling, failure to follow regulatory requirements and installation mistakes can be potentially hazardous for your family and home. Improper installation can lead to carbon monoxide poisoning or other fire hazards. Don't take a chance on safety; consult a trusted gas fireplace service for professional installation to avoid unforeseen accidents and gas fireplace repair.
Installing Proper Fireplace Infrastructure is Complicated
Fireplace installation may require additional infra like fireplace inserts, vents or heating stoves. Depending on the type of fireplace, you may need gas line installation, venting, electrical wiring, and more. While some tasks can be done by experienced DIYers, it is best to leave things like gas line installation and wiring to experienced professionals.
Building Code Compliance
Fireplace installation may require permits and compliance with specific building safety codes. A gas fireplace service technician would know the code and permit requirements for building regulations in your residential area and can help you acquire the relevant certificates. This also reduces the possibility of future complications as an experienced fireplace professional has the expertise to avoid typical problems. Thus, professional fireplace installation will give you peace of mind that all legal issues will be taken care of.
Efficiency Concerns
As concerned citizens, all homeowners are energy conscious and want the maximum energy efficiency for appliances. Hiring a reputed gas fireplace service will help ensure that your fireplace is installed perfectly with no energy wastage. Licensed professionals are experienced and trained in the correct fireplace placement, ventilation, and other parameters for maximizing energy efficiency.
Common Installation Mistakes to Avoid
As a DIYer, you might not be aware of the finer points of fireplace installation and may make these common mistakes:
Choosing the incorrect vent pipe.
Selecting the wrong valve.
Inadequate fireplace flue insulation.
Not providing for clearances & spacing.
Not selecting the proper gas log set.
Trust Fireplace Experts for Professional Fireplace Installation
Safe operation and correct installation are key concerns when considering fireplace installation. Opting for professional gas fireplace installation will ensure safety and efficiency. Thankfully, the licensed and trained professionals at Fireplace Experts have decades of experience setting up all kinds of fireplaces. We go the extra mile to ensure a flawless installation, guaranteed for the safety & longevity of your appliance. Our technicians will take care of the complete installation process, so you can sit back and enjoy the crackling warmth of your beautiful fireplace. Apart from fireplace installation, we also undertake gas fireplace service, maintenance, makeovers and fireplace repairs.