Fireplace Services in East York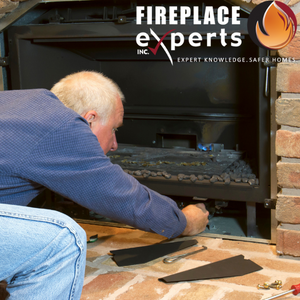 For reliable fireplace service in East York, fireplace repair and maintenance is provided by the Fireplace Experts. Our team of professionals specializes in gas fireplaces - service, repair, and cleaning. The priority is always about the safety and optimal functioning of your fireplace. We inspect for operational problems and anything that could pose some risk and danger for the residents.
In East York, gas fireplace repair and maintenance from the Fireplace Experts, is also about customer satisfaction. We believe in our services and that fireplaces can last you for many years. However, if you're in the market for a new one, we can help guide you and will professionally install it for you and then provide service and fireplace maintenance from then on.
Gas Fireplace Maintenance in East York
Like other gas-powered appliances, your gas fireplace requires a licensed TSSA technician for any repairs or installations. The truth is, only a certified TSSA technician should be doing any work on a gas fireplace. An unqualified service person could compromise performance and even create some safety risks. In short, a gas fireplace should be serviced and maintained by a professional.
To ensure safety, gas fireplaces require a carbon monoxide (CO) detector to be in proximity of the gas fireplace. If you are experiencing problems with your fireplace, you should take this as a warning sign and shut off your unit right away. After your service call is arranged, an experienced technician will provide you with a complete overview and your next steps for repair.
In East York, our fireplace repair and maintenance services fix and optimize many problems, the most common being the following issues:
overheating situations OR low-level flames
misfiring of the pilot light OR ignition failure
pilot light works – but burners do not ignite
Gas Fireplace Repair Services in East York
When your gas fireplace is in need of repair, you can count on the experienced professionals at The Fireplace Experts for reliable repair services. Keep an eye out for the following signs that's it's time for gas fireplace repair and cleaning.
Soot Build-Up: An excessive soot build-up inside your fireplace indicates the need for fireplace cleaning. It can also signal a more extensive problem requiring gas fireplace repairs in East York like a broken flue or malfunctioning damper.
Smoke in Your Home: One clear indication of a fireplace problem is smoke inside your home while using the fireplace. Chimney blockage, an incorrectly sized or damaged flue, or a damper issue could be the smokey culprits.
The Smell of Gas: Have a gas fireplace and smell gas in the air? It's a warning sign of a gas leak—Call a gas fireplace repair professional immediately.
Cracked Fireplace Face: Fissures or cracks in the face of your gas fireplace can trigger internal system problems. Contact a fireplace specialist to inspect your unit.
Shaky Shaling: A damaged chimney liner can cause shaling, where small pieces of tile break and pile up at the bottom of your fireplace. Immediate repair and a fireplace makeover in East York can revamp your crumbling fireplace.
Warped Wallpaper: Warped wallpaper near your fireplace indicates tell-tale signs of moisture trickling in from the chimney.
White Stains: The white stains or chalky powder on your fireplace is salt. Water can seep into the brick mortar and push out salt, signaling a leak.
Weak & Damaged Mortar Joints: Excess moisture can weaken and damage mortar joints. Cracks can grow and even cause a hazardous chimney collapse. Don't neglect fireplace repair or consider a restorative fireplace makeover.
Gas Fireplace Cleaning Services Near East York
With a gas fireplace, you're best off having regular and ongoing maintenance from season to season as problems could arise when not properly maintained or regularly serviced. Wear and tear can also diminish the lifespan of your unit at a quicker pace. That being said, The Fireplace Experts offer a complete 10-Step Preventative Maintenance Plan. Having them perform this process will help give you peace of mind and maintain the longevity of your gas fireplace. This will assure optimum performance for the fireplace, and keep it clean and good-looking throughout the year. Preventive gas fireplace maintenance and cleaning also avoids impending problems, and future gas fireplace repairs in Toronto.
The 10-Step Preventative Maintenance Plan from the Fireplace Experts makes for a stress-free experience with the best results. Your fireplace will operate efficiently. Gas consumption will be optimized. And everything will be working safely. Essentially, that's our professional approach.
clean away debris and recondition glass
inspection/assessment of the gasket seal
inspect/clean pilot assembly and burners
cleaning of control compartment/firebox
test safety shut off and ensure operation
check/confirm there is no ignition delay
inspection/cleaning of the burner system
reconstruct the ember-beds/check safety
unit general maintenance and fire unit test
check the on/off switch; thermostat; remote
Choose the Professionals at the Fireplace Experts
By any definition, a professional approach to fireplace maintenance is much preferred over a DIY approach. A DIY approach may be perfectly safe for a task like putting up wallpaper, however, when dealing with your natural gas, always contact a licensed professional - or better yet an expert at Fireplace Experts. In East York, fireplace repair and maintenance is readily provided by the Fireplace Experts. We'll identify problems and issues early on, and provide a viable remedy right on the spot. Call us at 416-897-5643 or visit the company website at www.fireplaceexperts.ca.