Fireplace Services in Richmond Hill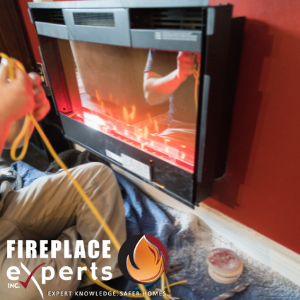 Handle all your fireplace needs under one roof with expert fireplace services in Richmond Hill including gas fireplace repairs, maintenance, makeovers and installation with the Fireplace Experts.
We can also guide you through buying a new gas fireplace if needed. A new fireplace, with a higher energy efficiency performance, may be right for you. Equip your home with the warm toasty ambience of a well-functioning gas fireplace. Learn more about our fireplace services in Richmond Hill.
Gas Fireplace Repairs Richmond Hill
Avoid safety hazards and ensure fireplace functionality with professional maintenance and gas fireplace repairs in Richmond Hill. Our experts keep your fireplace in working order by identifying buildups, cleaning issues, and prospective problems effectively. Using high-quality materials and industry experience our teams will restore health to your fireplace for easy use while avoiding potential fires, gas leaks, and carbon monoxide poisoning.
Signs You Need Gas Fireplace Repair Services
Yellow or flickering flame
Unusual odors or noises
Pilot light won't stay lit
Decreased heat output
Difficulty starting or controlling the fire
Moisture buildup or condensation on glass
Soot buildup on the logs or glass
Drafts or decreased air flow
Increased gas bills
Physical damage to the unit
Thermostat issues
Malfunctioning control valve or switch.
A professional fireplace repair team will help you address the needs of your fireplace safely and effectively. Paired with regular maintenance, gas fireplace repairs in Richmond Hill also ensure efficient operation, extending the lifespan of the fireplace.
Richmond Hill Fireplace Maintenance Services
When you own a gas fireplace, regular maintenance is recommended due to the wear and tear that can occur over time. Here, the Fireplace Experts provide a 10-Step Preventive Maintenance Plan that ensures optimum performance and fireplace safety. This preventive app you avoid costly repairs down the road and give you peace of mind.
The Preventive Maintenance Plan is comprehensive and covers every aspect of fireplace operation. You'll notice that gas consumption is better balanced and energy waste is dramatically reduced. With the Fireplace Experts, you're getting professional maintenance and expert advice on performance.
all debris is cleaned – glass is conditioned
glass/gasket seal are inspected/assessed
firebox/control compartment are cleaned
pilot assembly/burners inspected/cleaned safety shut-off is inspected for operation
burner system is fully inspected/cleaned
the technician ensures no ignition delay
reconstruct the ember-beds/check safety
overall maintenance (plus fire unit test)
check on/off switch – remote – thermostat
Home Fireplace Makeovers
Homeowners elect for a variety of changes when choosing our makeover fireplace service in Richmond Hill based on trends and individual preferences. Some popular choices include mantel-free fireplaces, refacing to marble, stone, or even concrete facades, switching to glass fireplace doors, or simply enhancing the paint colour. To effectively reinvent your fireplace, talk to the Fireplace Experts and share your vision with our teams to learn more about our fireplace services in Richmond Hill.
How to Upgrade Your Fireplace Appearance
Glass doors: Adding or upgrading glass doors can improve the appearance and efficiency of the fireplace.
Gas logs: Replacing old or worn gas logs with realistic, high-quality ones can enhance the look of the flame.
Remote control: Installing a remote control system can provide greater convenience and ease of use.
Fan: Adding a fan can increase the circulation of warm air and improve heating performance.
Lighting: Upgrading the lighting system can enhance the appearance of the flame and improve visibility.
Wall switch: Replacing a manual wall switch with a programmable one can provide greater control and convenience.
Thermostat: Installing a thermostat can improve temperature control and energy efficiency.
Mantel: Installing a new mantel can enhance the overall appearance of the fireplace and provide additional storage or display space.
Tile or stone facade: Upgrading the surround with new tile or stone can give the fireplace a fresh, modern look.
Hearth: Extending or upgrading the hearth can provide a larger, more comfortable surface for seating or storage.
All Your Fireplace Serviecs in Richmond Hill
If you're currently looking for gas fireplace repair, service, and maintenance in Richmond Hill, the Fireplace Experts can provide you with end-to-end service. Nothing beats a cozy, warm fireplace - but everything has to be safe, and anything short could pose mechanical problems and potential danger for everyone. Providing fireplace service in Richmond Hill, the Fireplace Experts always focus on safety.