What Maintenance Does a Gas Fireplace Require?
Posted in Gas Fireplace Maintenance, on December 07, 2021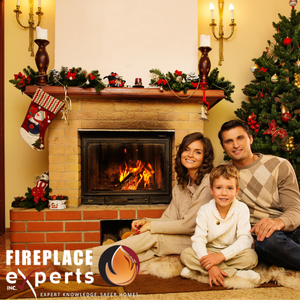 A gas fireplace is a luxurious addition to your home that adds ambience and value. And with each passing year, we see that choosing to invest in a fireplace makeover and convert to a gas fireplace is becoming a popular choice for many homeowners. The best part about a gas fireplace is the minimal maintenance required. Enjoy the crackling warmth of your fireplace, prioritize safety, and extend the life of your gas fireplace by following our tips. Read on to know what needs to be cleaned, checked, and inspected to avoid unnecessary and expensive gas fireplace repairs in Toronto.
How Often Do You Need To Maintain A Gas Fireplace
The skyrocketing popularity of gas fireplaces is because you can enjoy all the benefits of a wood-burning fireplace without the hassles of daily maintenance! With a wood-burning fireplace, not only do you increase your carbon footprint, but you also need to clean and maintain it. Burning wood means ash, soot, debris, and a whole lot of cleaning up! Thankfully, purchasing a gas fireplace or going for a fireplace makeover with a clean and efficient gas fireplace will save you the sooty mess and daily maintenance. However, an absence of daily upkeep doesn't mean there will be no maintenance required. There are still a few steps you need to do to ensure a flawless fireplace.
Cleaning Your Gas Fireplace
You can choose to hire professionals for your fireplace cleaning, or DIY enthusiasts can try cleaning it themselves. If you decide to clean it yourself, make sure to read the fireplace manual and follow the correct procedure.
Use a handheld vacuum to clear out the dirt and debris from the fireplace. If the lava rocks and decorative logs can be detached easily, remove them before cleaning. If not, then vacuum carefully around the logs. Inspect the logs and rocks for signs of wear or breakage; replace any damaged pieces right away.
Spray the glass doors, or fireplace screen with a mild glass cleaner or a cleaning solution specifically meant for fireplaces. Wipe clean with a soft cloth or microfiber cloth to remove the grime and build-up.
Ensure An Annual Inspection
Even if you choose to clean and maintain the fireplace yourself, an annual safety inspection by a professional gas fireplace company like Fireplace Experts is a must. Gas & fire are a combination that requires caution, and a yearly inspection by a certified fireplace inspector will ensure that your fireplace is safe to operate. The inspector will check for gas leakage and see that the fireplace is venting correctly. Besides basic cleaning, a professional technician will check for obstructions in the vent as it can cause lethal monoxide gas to invade your home. The inspector will also check that the fireplace components and connections are working smoothly.
Hire The Pros at Fireplace Experts
Fireplace maintenance, inspection, and gas fireplace repairs in Toronto can be easy with the right professionals! Our experienced and certified technicians can tackle any problems and take care of routine cleaning and maintenance. We also specialize in fireplace installation, design and fireplace makeovers for homeowners looking for a revamped or new fireplace. An annual inspection and maintenance of your gas fireplace ensures peak performance and also enhances its life. If your fireplace is overdue for maintenance or inspection, call us today to schedule an appointment!