The Best Time to Book A Fireplace Installation
Posted in Gas Fireplace Installation, on January 19, 2022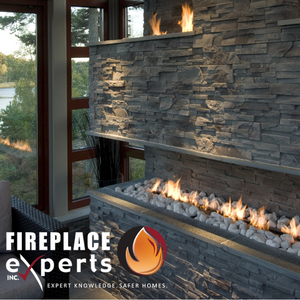 So when is the best time for fireplace installation and fireplace remodeling? While the usual answers may vary from Spring to Fall, ultimately, the best time to install or remodel a fireplace is when you need it! This could be in the winter months if your current system is not keeping up with your heating needs, even with regular gas fireplace service. Or this could be when you are thinking about replacing an old, broken-down fireplace with a sleek and efficient model. Either way, the key to a successful fireplace installation is making sure that you consider all the details in advance and estimate your budget accordingly. The more you think about these details in advance and budget ahead of time, the better your chances of a seamless installation experience.
So if you're thinking of a new fireplace, why wait? With the temperatures dropping, and the nights getting colder, there's nothing better than cozying up by the fire during fall and winter. Moreover, fireplace aesthetics and designs keep changing; if your heart is set on one, you may not find it after a few seasons. So if you are really drawn to a particular fireplace, get it installed right away! However, getting a new fireplace isn't something you should do on a whim - there are many factors you should consider before making any purchases.
Style: Fireplaces can be styled on traditional lines with intricate brick, marble, or stonework with a surround and mantle. Or you can choose to create a chic, modern look with sleek, minimalist designs in glass, LED backlighting with fire bed options in ceramic logs, stones, and crystals. If there are no budget constraints, you can choose customized fireplaces with see-through or single-sided installation.
Functionality: The purpose and function of a fireplace are perhaps one of the most vital considerations. Are you going for a fireplace remodelling or installation to enhance your home's aesthetics and value? Or are you considering one for better heating and energy efficiency? A gas fireplace will add to the style quotient of your home and offer energy efficiency with low-maintenance requirements. A traditional wood-burning fireplace may provide an authentic experience, but it comes with maintenance hassles. Electric fireplaces are also an option, but they only generate moderate heat and warm up a small area.
Size: The fireplace design, mantle, and surround should be chosen with careful consideration to the room size and hearth positioning.
Venting Considerations: Homeowners prefer a direct vent gas fireplace with a sealed combustion system for maximum efficiency and minimum maintenance. These systems protect indoor air quality by drawing fresh outside air for the fire and expelling exhaust gases outside the home. Ventless fireplaces are not permissible in Canada. Also, gas fireplace inserts can easily be fitted in existing fireplaces.
Whether you are thinking of purchasing a new fireplace or opting for fireplace remodelling, the best time is now! Transform your space with a flawless fireplace installation and remodelling from the Fireplace Experts. Our licensed and trained team will be happy to help you with everything you need to know about fireplace installation, remodelling, repair, or gas fireplace service. Rest assured of exquisite craftsmanship, exceptional quality, and safer homes with the Fireplace Experts. Call us today or fill out our online contact form for a free quote proposal!