How Fireplace Installation Makes Winter Cozier
Posted in Gas Fireplace Installation, on November 10, 2023
The dread of icy cold nights and the longing for comforting warmth after a gloomy winter day—these feelings are all too familiar with dropping temperatures. Thankfully, your gas fireplace is ready to take centre stage after months of hibernation to bring warmth and cosiness into your home. Whether you need a gas fireplace installation, makeovers or fireplace repairs in Vaughan, you can indulge in the soothing embrace of your fireplace all winter. Here are some tips on maximising cosiness through fireplace installation and how Fireplace Experts can help you craft the perfect winter retreat.
Ensure Required Repairs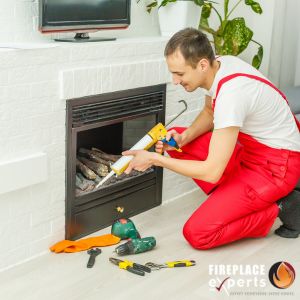 Ensure your fireplace is in tip-top condition before embarking on the journey to winter cosiness. Malfunctioning pilot lights, damaged logs or glass doors, and gas leaks are common and fixing them is critical to guarantee the safety and efficiency of your fireplace. These essential repairs are necessary to maintain functionality and avoid risks to your home. Professional fireplace repair in Vaughan ensures peace of mind and a blissful haven during the cold months.
Convert Your Old Wood Fireplace to Gas
For those with a traditional wood-burning fireplace, switching to a gas fireplace can be a game-changer for convenience and cosiness. Gas fireplaces offer instant warmth and precise temperature control. They are cleaner and more efficient compared to their wood-burning counterparts. Fireplace Experts provide customised gas fireplace installation and fireplace makeovers, creating the ambiance of a real fire with the convenience of gas. Say goodbye to chopping wood or cleaning up ashes with this fireplace upgrade!
Refresh Fireplace Facade
A fireplace makeover can add warmth and transform the entire ambiance of your living area. Consider a winter refresh by upgrading your fireplace facade. Whether you prefer a sleek and modern design for an elegant and contemporary aesthetic or the charm of a rustic atmosphere with exposed brick–the possibilities are countless. You can add shiplap accents or custom mouldings for a quick yet transformative effect. Consider a floating shelf mantel or place one atop corbels to create an architectural focal point with space to display personalised decor, pottery or artwork. Or update the surroundings for a vibrant new facade. Decorating your fireplace for the holiday season adds a dash of warmth and festive cheer. You can even bring in the outdoors with a stone veneer facade to add character to your old fireplace.
Make It Pop!
Add a pop of colour with beautiful tiles in flattering muted tones that can bring exciting contrast and personality to your space. Or try cool greys to complement your sleek metallic fireplace for subtle sophistication. Herringbone and Mediterranean pattern tiles are all the rage this winter. And you needn't do it alone–Fireplace Experts can help you with palettes and designs you'll relish for years.
Turn your home into a winter wonderland with Fireplace Experts! Whether you're remodelling your home or looking to add warmth and value to your property, a gas fireplace goes a long way. Fireplace Experts are your trusted partners for fireplace installation, maintenance, makeovers, and fireplace repairs in Vaughan. Our fireplace specialists are dedicated to providing top-notch services for a flawlessly functioning fireplace, radiating warmth and cosiness. Let's make this winter your cosiest one yet!
CONTACT FIREPLACE EXPERTS TODAY