Your Gas Fireplace Won't Light...Now What?
Nothing beats the toasty warmth of a gas fireplace on a chilly evening...however, a fireplace that won't light can be a bummer. Don't lose your cool over a fireplace non-starter! Before you call gas fireplace repair services, try these troubleshooting techniques recommended by the pros at Fireplace Experts. Hopefully, you will soon have the roar back in your fireplace!
#Check the Main Gas Valve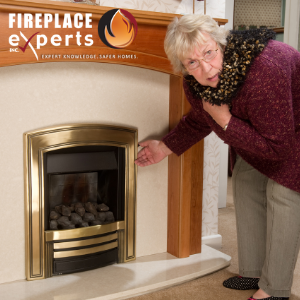 When your gas fireplace fails to light, the first thing to confirm is whether your main gas supply is switched on or not. Often, the problem can be as simple as a switched-off main! Just switch the gas supply valve on to fix the problem.
#Clean the Fireplace
Dirt and debris can clog the gas valve and stop the flow of gas into the gas chamber. So clean your fireplace and have regular fireplace maintenance to keep it in top running condition. Opting for a professional fireplace maintenance service can prevent such issues as they ensure proper cleaning and a full gas fire inspection and safety check.
#Check the Fire Logs & Coals
Improperly placed logs could prevent your fireplace from lighting up. Check whether the logs are correctly positioned or not. If you are not sure how to keep them, read the manufacturer's instructions.
#For Gas Fireplaces with a Pilot Light
A faulty pilot light is one of the most common reasons why your gas fireplace won't switch on.
Open the vent to check whether the flame is on. If it is not on, reignite the pilot light following the manufacturer's instructions. Then try and turn on your fireplace again.
If the pilot light does not light, but gas is being released, there could be a problem with the ignition spark. If there is dirt on the igniter, remove it with a soft cleaning cloth.
If the pilot light is igniting but not staying on, there could be an issue with the thermocouple. Check for any carbon deposits on it; clear any carbon buildup and try lighting the pilot light again. If it still gives trouble, the thermocouple may be worn out from use. Call a reliable gas fireplace repair service professional to get it replaced.
#For Gas Fireplaces with an Electric Ignition
Some newer gas fireplace models have electric ignition systems instead of traditional pilot lights. However, you should never try DIY repairs on electric systems! Contact a trustworthy gas fireplace repair expert to inspect and repair it.
#Final Thoughts
Troubleshooting gas equipment can be tricky. If you are not confident, it is best to leave it to a professional gas fireplace repair service.
Trouble Lighting Your Gas Fireplace? Fireplace Experts Are Happy To Help!
The professionals at Fireplace Experts have been successfully serving thousands of homeowners, property managers, home inspectors, and realtors across the GTA and surrounding areas since 2008! Armed with expert knowledge & a vision for safer homes, we promise outstanding gas fireplace repair, maintenance, certification, and installation services at competitive prices. Call us at 416.897.5643 for a COVID-compliant contactless fireplace service today!