Why Your Gas Fireplace in Toronto Suddenly Goes Out
Posted in Gas Fireplace Repair, on March 22, 2023
As the Toronto weather continues with its cold streak, gas fireplaces remain a comforting and cozy option for homeowners. They provide warmth and instant ambience with a convenient flick of a switch. However, sometimes your fireplace can suddenly go out, leaving you without the snug fire you imagined. Regular maintenance from a professional service provider can help you mitigate future fireplace repair in Toronto. Still, there are several reasons you may find your fireplace turning off unexpectedly. With reliable fireplace maintenance and cleaning services with the Fireplace Experts you can minimize surprises and extend the longevity of your gas fireplace.
Read below to explore the reasons behind this frustrating yet common gas fireplace problem.
Gas Supply Issues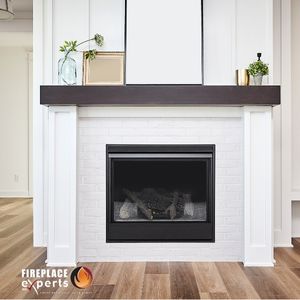 Gas fireplaces can go out suddenly due to improper gas supply. A problem with the gas line can prevent gas from flowing correctly into the fireplace ignition. This can cause it to shut off suddenly. Low gas pressure can also cause the pilot light to go out and result in a fireplace shut down. Recurring fireplace shut-offs can be frustrating–if you suspect gas supply issues, contact a reliable professional from Fireplace Experts for fireplace repair in Toronto. They can diagnose supply problems to ensure that your unit works flawlessly through the winter months!
Pilot Light Problems
Every gas fireplace has a small flame called the pilot light that ignites your fireplace burner. An extinguished pilot light can cause your gas fireplace to shut off. A pilot light can malfunction due to a clogged or dirty pilot orifice, a draft in the chimney, or problems with the thermocouple.
Some pilot light issues can be fixed with a bit of DIY. However, call a fireplace repair specialist if you're uncomfortable doing this yourself. A professional repair person can determine and resolve the pilot light problem correctly. They can also undertake fireplace maintenance for improved functionality.
Faulty Thermocouple
The thermocouple is a critical safety device in your gas fireplace. It detects heat and determines whether the pilot light is lit. If it is off, the thermocouple shuts off the gas supply and prevents unnecessary gas flow into your home. A malfunctioning thermocouple might shut off the gas supply even with a lighted pilot light. This can make your fireplace go out suddenly. An experienced fireplace repair person can diagnose and replace a defective thermocouple to ensure your gas fireplace stays lit.
Lack of Maintenance
Like all appliances, your gas fireplace requires regular maintenance. With use, dust and debris can accumulate inside your fireplace. This can cause the burner, thermocouple, pilot light or other components to malfunction. Unclean or clogged burner ports can lead to an uneven flame and sometimes cause it to go off. Regular fireplace maintenance, including inspection and thorough cleaning, will prevent random shut-offs and keep your fireplace in perfect working order.
Choose Fireplace Experts for Safe & Flawless Fireplaces
Do not let a suddenly extinguished gas fireplace disrupt your comfort or safety. Contact a certified professional from the Fireplace Experts for all your pesky gas fireplace issues. As the highest recommended gas fireplace service across the GTA, we're your trusted experts for fireplace repair in Toronto! Whether it's improper ventilation or a frequently extinguished fireplace, our experienced fireplace technicians are trained to diagnose & repair any problem with your gas fireplace in Toronto. Enjoy the comforting warmth of your gas fireplace in all seasons with the Fireplace Experts.
Call us now to schedule your Fireplace Experts service call!