Why Does Gas Your Fireplace Keep Turning Off?
Posted in Gas Fireplace Repair, on September 25, 2023
Investing in a gas fireplace is a fantastic way to add an upscale ambiance to your home, providing warmth and charm with the flick of a switch. However, having it inexplicably shut off can be incredibly frustrating when you wish to relish its comforting glow. With the winter chill about to make a grand entrance, a reliable gas fireplace is a trusted ally. This Fireplace Experts blog explores why your fireplace can turn off and how to address the problem. More importantly, it re-emphasizes why contacting trained professionals for fireplace repair in Toronto is crucial, especially if you've not completed fireplace cleaning or fireplace maintenance recently.
What Causes Fireplaces to Turn Off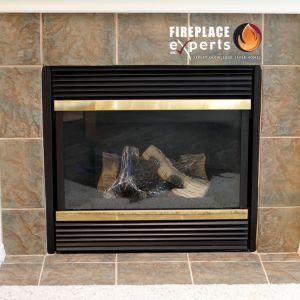 Understanding why your gas fireplace turns off is essential to addressing the issue effectively. Some common factors that can trigger these shutdowns include:
Dirty Burners & Logs: Accumulated soot and debris on the burner or logs can obstruct gas and airflow, leading to incomplete combustion and shutdowns.
Venting Issues: Poor venting can cause the fireplace to overheat, triggering the safety mechanisms to shut it down. Blocked vents or incorrect installation can contribute to this problem. That's why the specialists at Fireplace Experts recommend regular professional fireplace cleaning and inspections.
Parts that May Cause Gas Fireplace Issues: Gas fireplaces are intricate systems comprising several components that work together to provide a safe and efficient heat source. Some parts may wear out or become faulty over time and cause unexpected shutdowns. Here are a few components that could be the culprits:

Thermocouple or Thermopile: The thermocouple and thermopile are safety devices that sense the presence of a flame. If either malfunctions or becomes dirty, it can erroneously signal the gas valve to close.
Gas Valve: A faulty gas valve can disrupt gas flow to the burner, resulting in an intermittent flame or causing the fireplace to shut off entirely.
Pilot Light: A dirty pilot assembly can also cause the pilot light to go out frequently and cause unexpected fireplace shutdowns.
Diagnosing the Problem with Fireplace Repair
Before rushing to contact professionals for fireplace repair in Toronto, you can attempt these basic troubleshooting steps:
Check the Pilot Light: Ensure the pilot light is burning steadily. If it keeps going out, try cleaning the pilot assembly and inspecting the thermocouple.
Inspect the Gas Supply: Ensure uninterrupted gas supply with the proper pressure. Any gas supply issues can trigger shutdowns.
Clean the Fireplace: Regular fireplace cleaning is essential. Clean the glass front to maintain efficient heat transfer. Remove soot or debris from the burner and logs.
Why Leverage Expert Fireplace Repair & Cleaning Services
While some gas fireplace problems can be resolved with DIY troubleshooting, it's often best to have professional expertise for fireplace repair in Toronto. Gas fireplaces comprise potentially hazardous components. Fireplace professionals are trained to handle them safely. Our professional fireplace technicians at the Fireplace Experts have the know-how and experience to diagnose and repair issues accurately. Our teams are trained to identify hidden problems that may not be evident. Professionals can provide long-lasting solutions to ensure your gas fireplace remains operational and safe for years.
Need help with diagnosing and addressing fireplace repair in Toronto? Worry not; the specialists at Fireplace Experts are here to help! We've been delivering the highest-quality fireplace cleaning, repair, installation, and fireplace makeover services across the GTA since 2008. Enjoy uninterrupted fireside evenings with the Fireplace Experts by your side.