Why Convert Your Wood Burning Fireplace to Gas?
Posted in Gas Fireplace Installation, on October 14, 2022
Converting your wood-burning fireplace to gas is a super efficient way to heat your home. And with many stylish options, you can elevate your space with uber-chic fireplace renovation with the Fireplace Experts. Unlike wood-burning fireplaces, gas fireplaces heat up almost instantly, providing immediate warmth during freezing winter temperatures. In addition, gas fireplaces are one of the most energy-efficient ways to heat your home, allowing you to save on heating costs especially during the cold winter months.
You can reach out to the professionals at Fireplace Experts for flawless fireplace installation, renovation, and replacement. Continue reading to learn why you should convert your wood-burning fireplace to gas.
Why Should I Install a Gas Fireplace?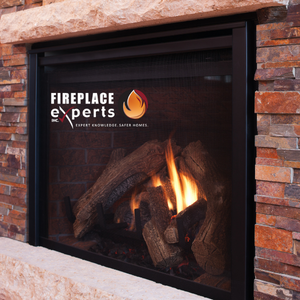 Gas fireplaces score over their wood-based counterparts for the following reasons:
Easy to Use: Ease of use is probably one of the top reasons to switch to a gas fireplace. Unlike wood-burning fireplaces, a gas fireplace is much easier to start and operate. There are no hassles about sourcing or seasoning firewood, chopping logs, or storing them. You don't need to tend to a gas-based fire, feed it with logs or worry about it dying out. Gas fireplaces can be conveniently started with a push of the thermostat button or a remote. The best part? No smoke, ash or soot to clean up after every use!
Energy Efficient: The energy efficiency of a gas fireplace is another significant advantage. Gas fireplaces are contained systems and function almost like a furnace. While wood fires usually convert around 10-30% of wood energy to heat, a gas-based fireplace can convert nearly 75-99% of its fuel energy to heat. Thus gas fireplaces can heat your home more effectively and efficiently than a wood-burning fireplace.
Heat Output Control: Adjusting the thermostat allows you to easily control the heat output in a gas fireplace. If the room is too hot or cold, you can simply fine-tune the flame and heat to your liking. You can even set the thermostat to a particular temperature setting, and it can automatically adjust the heat output accordingly.
Low Maintenance: Gas fireplaces are almost maintenance-free! Wood-burning fireplaces require cleaning after every use—gas fireplaces only require a quick wipe-down from time to time. Besides the cocktail of soot and ashes, burning wood also leaves behind creosote, a natural byproduct. This mix of resin, carbon, and water vapour accumulates inside the chimney and is a potential fire hazard. Creosote needs to be cleaned regularly for safety. Thankfully, you only require annual maintenance and cleaning after gas fireplace installation.
Stylized Options: Gas fireplaces offer a multitude of stylized options for fireplace renovations and makeovers. If you're bored of your brick-and-mortar fireplace, you can instantly elevate your home with a sleek, modern glass-enclosed fireplace. Use a gas fireplace and accompanying decorative accessories to recreate and transform your existing fireplace. It can be the perfect finishing touch for your renovation project!
Hassle-Free Gas Fireplaces with the Fireplace Experts
Whether you've been debating installing a new fireplace or considering a fireplace renovation, now is a perfect time! With the colder months approaching, there's no better way to feel warm and cozy around your home than with a beautiful gas fireplace. Fireplace Experts is your trusted gas fireplace service provider in Toronto, proudly serving our valued patrons in the GTA since 2008. For professional and certified gas fireplace installations, repairs, renovations and makeovers, contact our specialists at Fireplace Experts today!