Why Clean Your Gas Fireplace this Before Summer Ends
Posted in Gas Fireplace Cleaning, on August 31, 2023
As the weather gets colder and the knit sweaters start appearing, it may be time to get your fireplace up and ready for use. Due to the lack of use over the last few months, you may be in demand for a gas fireplace cleaning. We offer all kinds of gas fireplace services at Fireplace Experts, from cleaning to installation in the GTA. Prevent severe damages and promote overall hygiene by performing regular cleaning and maintenance for your fireplace, as it can often slip the mind of homeowners.
Learn more about cleaning your gas fireplace before summer ends below.
Ensuring Fireplace Safety and Hygiene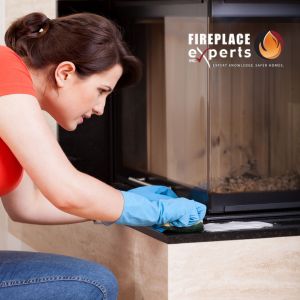 If you have not touched your fireplace since the beginning of the summer, there is a good chance that debris and dust have collected in the small space. If you fail to clean it before using it for the first time this season, there can be a severe fire hazard and lead to damage. Leftover residue from last season can often produce unpleasant odours. Many times, this residue is mold. It's essential to clean and remove mold as soon as it's detected, as it can also affect the health of the people living in your home. As a fireplace is a dark and moist area, it's an excellent place for mold to thrive. Be sure to perform a gas fireplace cleaning to ensure safe fireplace use.
Aesthetics and Longevity
The small details make a home. Little attributes like cleanliness and organization matter when creating an image for your home. Seeing dust bunnies, soot, and grime is not a sight for sore eyes, which is often disturbing. Be sure to book a gas fireplace service to clean it up so it's ready for the winter months sitting by the fire with friends and family. Keeping it clean and maintained also ensures the longevity of your fireplace. This can prevent corrosion and buildup of corrosive substances that also prevent damage caused by it.
Ready for Fall/Winter
Fireplaces see the most use during the fall and winter months. It creates a cozy place to warm up after spending time outside or as a heat source for the house. Be prepared with a fully functioning fireplace. Cleaning your fireplace before summer ends lets you see if any repairs are needed. If you choose to call a professional for fireplace cleaning, they can conduct an inspection simultaneously and give you a complete report on the state of your fireplace. It's best to call earlier than later, as repairs can take some time to complete, so allow yourself that time before using it.
Gas Fireplace Cleaning with Fireplace Experts
If you are looking for a company to perform your fireplace cleaning, call Fireplace Experts. Our team specializes in gas fireplaces, whether it's an inspection, maintenance or entire makeover. We have the knowledge and expertise to help you get the job done. Since 2008, we have been providing homeowners with enhanced relaxation, especially in the colder months, with our services. Our team aims for optimal customer satisfaction in the GTA. Contact Fireplace Experts today to be ready for the cold.