What to Expect During a Gas Fireplace Installation (From Start to Finish)
Posted in Gas Fireplace Installation, on February 03, 2022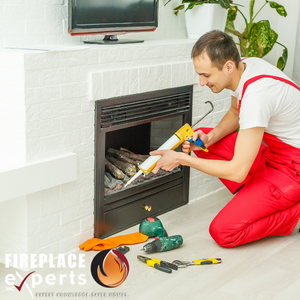 Cozying up by the crackling warmth of a fireplace spells winter bliss for most of us. If you're thinking of a fireplace makeover or purchasing your dream fireplace, be proactive and consider the complete installation process. Fire and gas are a dangerous combination, so fireplace installation and gas fireplace repairs in Toronto are only undertaken by trained professionals. At Fireplace Experts, our trained & certified technicians always handle installations with the utmost care and caution. Here's a step-by-step breakdown of what to expect upon scheduling your gas fireplace installation:
The Fireplace Makeover Installation Process
Consultation With A Fireplace Expert:
During this first visit, our team will discuss your existing fireplace and the pros and cons of installing a gas fireplace. We're committed to guiding you through the entire process, so the next step is helping you choose the best gas fireplace that works for you and your home.
Types of Gas Fireplaces include three main types:
Zero-clearance fireplaces are perfect for homeowners building a new house or renovating an old one. These fireplaces allow for a lot of freedom for experimentation & design as there is no compulsion of fitting into an existing fireplace. One can build the fireplace from scratch without worrying about pre-existing infra.
Gas inserts are designed to fit right into an existing fireplace. You will need a chimney or vent that was built for the previous fireplace. This option also requires the installation of gas lines and two aluminum chimney liners.
Freestanding stoves can be installed practically anywhere as they do not require extra finishing or previous infrastructure. They are incredibly versatile and can be placed freely outside the wall, and come in contemporary and quaint traditional styles.
Venting Options
Once you've chosen the gas fireplace that fits your taste & home aesthetics, you need to select the venting system. A direct vent system preserves indoor air quality by drawing outside air for combustion & expelling all exhaust & byproducts outside. The natural vent option uses the inside air and requires an exhaust vent or chimney to route the exhaust. A vent-free system does not need any venting, but such fireplaces are illegal to use in many countries, including Canada.
Measurements, Drawings, & Quotes
Next, our technicians will measure the space where your new gas fireplace will go, so we can send an accurate quote with a free estimate. This will include the type and model of the fireplace, list of materials, labour cost, and payment terms.
Installation Day
Preparing the Workarea: Our technicians will start by clearing the workspace and ensuring that safety standards for installation are in place. The work area will be covered with protective drop cloths, and then the equipment and ladders will be set up. We will go over the project with you again to address any concerns.
Installation: We will begin by installing the gas lines and venting for the gas fireplace. Next comes the firebox installation & adding the decorative elements. Once the fireplace is set up, our technicians will check for leaks and startup your new gas fireplace!
Winding Up: We pride ourselves on flawless installations, and it includes cleaning up the workspace afterwards. We also take time to explain the working of the fireplace and answer any queries that you may have. Your fireplace makeover is complete with a stunning fireplace that you and your family can enjoy for years to come.
Enjoy the cozy comfort and radiant warmth of your very own gas fireplace this winter! Connect with the Fireplace Experts for professional fireplace installation and gas fireplace repairs in Toronto. We'll be happy to help you select and install the gas fireplace that complements your home & lifestyle!