Tips to Get Your Fireplace Ready for the Holiday Season
Posted in Gas Fireplace Installation, on November 09, 2022
The holidays beckon, and there's no better way to get into the festive mood than soaking up your fireplace's sight, aroma, and warmth on crisp winter mornings and nights. Fire pits and fireplaces add that perfect touch to happy holiday times with family and friends. Everyone looks forward to a crackling fire with comfort, relaxation, and flawless performance from their fireplace. Fireplace Experts have years of experience in fireplace installation, repairs, makeovers, and fireplace renovations, so you can count on our team to spruce up your fireplace for the holiday season. Read on for some cozy tips to get your fireplace holiday-ready.
Get Yearly Fireplace Maintenance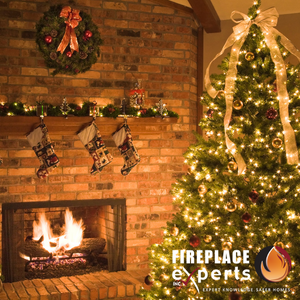 Every fireplace needs some TLC before the beginning of a new winter season. Enlist professional fireplace maintenance and inspection services to beat the winter rush. An annual inspection will ensure that your unit is structurally sound and safe for operation. Gas fireplace installation and maintenance must be done by experienced professionals who can check and fix any issues with the framework, logs, glass or burner assembly. They will also inspect the ventilation system, firebox, and other components to ensure a safe and working fireplace. The bottom line for safe gas fireplaces is an annual professional cleaning, maintenance and inspection.
Make the most of your fireplace and the holidays by scheduling timely fireplace maintenance from the pros at Fireplace Experts!
Get a Fireplace Makeover
Nothing defines the holiday season more than a roaring fireplace. Breathe new life into your mantel this holiday season with a stunning fireplace renovation! Add a gorgeous new gas fireplace, insert, or log set with high energy efficiency from the Fireplace Experts. Get some Christmas inspiration, update your drafty fireplace with a beautiful fireplace makeover, and enjoy improved heat. Experiment with new tiles, a stylish surround, a lick of fresh paint, or a custom makeover by the Fireplace Experts. Give your home and family the gift of warmth, happiness, and comfort this winter!
Celebrate & Decorate Your Mantle
Holiday celebrations are incomplete without a festive mantel. Create the perfect holiday ambience with a traditionally decorated mantel. Choose simple yet classy-draped garlands with festive bows and Christmas baubles across the mantle. Add delicate fairy lights or coloured Christmas lights to set the tone, and finish with decorative candles, wreaths, or art. And don't forget the stockings! Hang festive stockings on the mantel with 3M tape or decorative stocking holders to avoid damaging the mantel. Think wrapped gift boxes, knitted accessories, dainty flowers and greens, and glass storm lanterns for that glowing, festive vibe.
Have a Safe & Happy Holiday Season With the Fireplace Experts
The Holidays are a time for family, happiness, laughter and traditions. A well-maintained and high-performance fireplace will make your holidays more comfortable and enjoyable. As Toronto's leading gas fireplace provider, the Fireplace Experts are committed to providing you with quality fireplace installations, inspections, maintenance, renovations, and repairs. Don't stress; you can still get your gas fireplace up and ready for the festive season.
Call the Fireplace Experts today to bring warmth, beauty, and safety to your home this holiday season!