What You Should Know About Your Fireplace Gas Valve
Posted in Gas Fireplace Maintenance, on June 20, 2023
Your gas fireplace's functionality depends on the synergetic interplay of many components. The gas valve is one such critical element that regulates the burner's natural gas or propane flow to ensure safe and efficient operation. However, without regular fireplace cleaning and service, the gas valve components can malfunction and require fireplace repair in Toronto.
Read the Fireplace Experts guide to crucial aspects of your gas fireplace valve to enjoy trouble-free heating throughout the year!
The Impact of a Dirty Gas Valve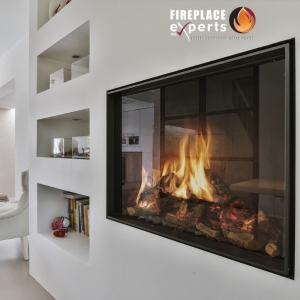 A dirty or clogged gas valve can hamper gas flow to your fireplace. This can cause an unreliable flame with ineffective heating, putting a spanner in your cozy nights by the gas fireplace. The risk of gas leaks due to a clogged valve is a perilous threat requiring immediate gas fireplace cleaning and restoration. Periodic cleaning, service, and prompt gas fireplace repair in Toronto can ensure optimal performance and minimal malfunctions or safety concerns.
Signs of Gas Valve Problems
Difficulty in igniting the fireplace or inconsistent flame.
Sudden or unexplained loss of flame during operation.
Excessive soot accumulation or black residue around the fireplace.
Unusual gas odours or hissing sounds near the gas valve area.
Don't ignore these gas valve warning signs. Timely maintenance and annual service can prevent complications.
Gas Valve Leaks & Safety Concerns
Gas leaks present potent safety hazards of fire or fume inhalation. Open flames or electrical sparks can ignite leaked gas to trigger an explosion. Inhaling natural gas or noxious propane can also be harmful. Evacuate the area immediately if you detect a noticeable smell of propane or gas around your fireplace. Dealing with gas leaks has no margin for error—a slight misstep can trigger a catastrophe. Contact your gas service or a trusted professional for fireplace repair in Toronto for assistance.
Impact of Faulty Gas Valve Components
Here's how malfunctioning gas valve components can affect the smooth operation of your fireplace:
Pilot light Problems: A faulty gas valve can disrupt the ignition process, prevent the gas fireplace pilot light from staying lit, or cause it to be extinguished frequently. This can cause an unreliable flame and inefficient heating.
Irregular Gas Flow: A faulty gas valve will not regulate gas flow correctly. Varying flame height, poor heat output, or the inability to adjust the flame using the control knob are some of the operational issues with a malfunctioning gas valve.
Compromised Safety Mechanism: Modern gas valves have state-of-the-art safety features like thermocouples or flame sensors that shut off the gas supply when the pilot light is off. A problem with the flame sensor signal can cause false flags and trigger it to shut off the gas supply erratically.
Other Benefits of Professional Fireplace Repair Services
While addressing gas valve issues is crucial, hiring professionals for fireplace repair in Toronto has additional benefits. The pros at Fireplace Experts can inspect and clean the entire fireplace system to enhance the longevity & performance of your unit. A trained gas fireplace specialist can identify and resolve other potential issues like clogged vents or faulty ignition systems.
Optimize your gas fireplace experience with the Fireplace Experts. Contact us for professional gas valve & fireplace cleaning services. Don't compromise your safety or the snuggly warmth of your gas fireplace.