Things To Know About A Gas Fireplace Installation
Posted in Gas Fireplace Installation, on April 13, 2022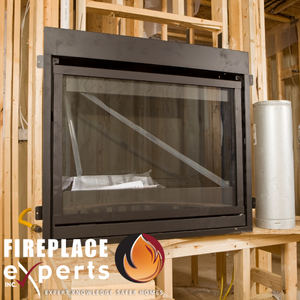 Are you thinking about installing a gas fireplace in your new home? If so, we've put together this blog to provide a few things to know about gas fireplace installation and gas fireplace maintenance.
Gas Fireplace Types
When you are planning a gas fireplace installation, you will also have to get some other things besides the fireplace itself. As you might know, there is more than one type of fireplace available, so if your plans include getting a gas one, then here are some things you might want to know about gas fireplaces.
Natural vent fireplaces have a vent pipe that goes through an outside wall. These are the most common type of gas fireplaces.
Ventless gas fireplaces heat the room with gas and airflow, but there is no chimney. The ventless gas fireplace relies on an internal fan to force air out of the home.
Direct vent gas fireplaces have a duct that leads outside, so they do not require a chimney. These fireplaces get their fuel from a hose connected to the gas supply line.
Contrary to popular belief, gas fireplaces are not the same thing as gas log sets that you can find in most stores. The two may look similar but they work differently.
Gas Fireplace Log Sets
Gas log sets are usually cheaper and require no special installation, but they do not create the same amount of heat or look as authentic as real gas fireplaces do. That is why it is important to get a professional who will be able to help you choose the best fireplace for your particular needs.
Gas log sets are available in both vented and ventless models. Ventless gas logs are ideal when no chimney is available. Gas fireplace log sets are available in gas logs, gas log inserts, or vented gas logs. Vented gas logs offer the realistic flame and glowing embers of a wood fire. Gas log inserts are a clean and safe alternative to wood-burning fireplaces. Vented gas logs are installed in a fireplace that has been pre-drilled for the installation of a gas log set.
Gas fireplace log sets can be purchased with or without a remote control. The remote control allows you to safely operate your fireplace from anywhere in the room. It may also provide more precise heat controls and flame height adjustments
Gas Fireplace Installation
With a gas fireplace installation, you will also have to think about flues and chimneys. Since these fireplaces require a constant flow of oxygen they need special pipes to get it from outside of the house.
Get it installed by professionals
Most people think that installing a fireplace is a DIY project, but this isn't the case. If you're installing one yourself, generally you need to have a professional do it for you. These professionals will ensure that the job is done to code, which means you can get it up and running without any issues.
With so many different companies providing services for a gas fireplace installation it can be tough to find just the right one. If you're in need of a gas fireplace installation, more than likely you have probably have some questions about the entire process.
Here are some of the more important things you need to know when choosing a gas fireplace installation company:
1. Check for licenses and insurance.
When you're looking for a company to install your gas fireplace, be sure to ask about their licensing and insurance status. This will protect you in the event of an accident during the installation. You'll also want to check if the company has any reviews or testimonials from previous customers; this can help you assess their reliability and trustworthiness.
2. Ask about experience and past work.
A good gas fireplace installation company will have plenty of experience with installing fireplaces in all sorts of homes. They should also be able to show you photos or videos of their past work so you can get a sense of their capabilities. This will give you peace of mind that they know what they're doing and can handle any challenges that come up during the installation process.
3. Do They Come With Reviews or Testimonials?
It's always best to go with a company that has previous experience and is able to show previous work they have done in the community. This will help you know if they are reliable and trustworthy.
If you are in the market for gas fireplace maintenance or looking to install a new gas fireplace, contact the Fireplace experts today.