Telltale Signs You Need Fireplace Cleaning
Posted in Gas Fireplace Cleaning, on October 27, 2023
A roaring fire in your fireplace can infuse your home with a comforting ambiance during the chilly months. However, like any other part of your house, fireplaces require regular maintenance to operate both safely and effectively. However, the benefits of regular gas fireplace cleaning go far beyond aesthetics. It elevates the visual appeal of your living space, guarantees the optimal operation of the fireplace, and, most importantly, secures your home and the well-being of your family. An indispensable aspect of maintaining a fireplace is the cleaning process. Pioneers of fireplace repair in Toronto, Fireplace Experts have gathered a list of seven unmistakable indicators that signify the need for a thorough fireplace cleaning.
Soot Build-up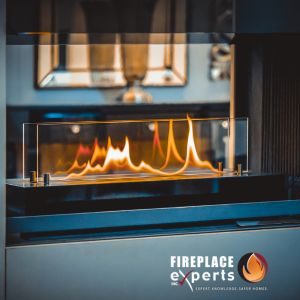 With time, burning wood or other fuels in your fireplace leaves behind a residue known as soot. Soot can amass on the inner surfaces of the fireplace and the chimney. Excessive soot buildup can obstruct the flue, diminishing airflow and making it more challenging for smoke and hazardous gases to exit. If you observe a substantial layer of soot within your fireplace or around the chimney, it is a clear indication that professional cleaning is in order.
Unusual Fireplace Odors
If you have detected an uncommon and unpleasant aroma emanating from your fireplace, it could be attributable to accumulated debris, soot, or creosote. These substances can emit unpleasant odours when heated. Engaging a professional for a fireplace cleaning can eliminate the odour-causing buildup, rejuvenating your fireplace's inviting and fresh fragrance.
You've Recently Banished Animals from your Fireplace
During colder months, animals like birds, squirrels, or raccoons might seek shelter within your chimney or fireplace. Their nests or droppings can obstruct the flue, leading to airflow problems and potentially increasing the risk of a chimney fire. If you have recently experienced an intrusion by animals, a thorough cleaning is imperative to guarantee your fireplace is safe and free from obstructions.
Abnormal Fireplace Sounds
Unconventional sounds stemming from your fireplace, such as a hissing noise, could be a result of blocked or partially blocked chimney flues. This poses a significant danger, as it may impede the proper escape of harmful gases like carbon monoxide. When strange noises arise, it is crucial to promptly address the issue with a thorough cleaning and inspection.
You Can't Get Your Fireplace to Start Properly
If you encounter difficulties igniting your fireplace or maintaining a consistent burn, airflow issues caused by soot, creosote, or other obstructions may be the root cause. Fireplace Experts can enhance your fireplace's efficiency, making it simpler to ignite and relish the warmth it provides.
CO² Gas Gets into Your Home When the Fireplace is lit
Carbon monoxide (CO₂) is an odourless, colourless gas that can be deadly when inhaled in high concentrations. A malfunctioning or unclean fireplace can lead to the release of CO₂ into your home. Symptoms of CO₂ poisoning encompass dizziness, headaches, and nausea. If CO₂ exposure is suspected or these symptoms manifest, evacuating your home and promptly contacting professionals of fireplace repair in Toronto, Fireplace Experts, to inspect and clean your fireplace is essential.
Fires Start on the Inside of Your Fireplace
The presence of small fires or flames within your fireplace, particularly along the chimney walls, is an unmistakable indication that creosote and debris are igniting. This is highly dangerous, as it can give rise to a chimney fire, which can result in extensive damage to your home. Regular cleaning and inspections are effective in preventing such incidents, preserving both your home's safety and your peace of mind.
When to Call the Experts
A well-maintained and clean fireplace not only adds charm and warmth to your home but also guarantees the safety of you and your loved ones. Consistent cleaning, typically advised on a bi-annual basis, is instrumental in averting issues like soot accumulation, odd odours, animal intrusions, peculiar sounds, ignition troubles, and the toxic release of CO₂ gas or chimney fires. If you have observed any of these unmistakable signs, it is time to schedule a professional fireplace cleaning with Fireplace Experts to ensure that your fireplace operates efficiently and safely throughout the winter season. Prioritizing fireplace maintenance will not only offer reassurance but also permit you to fully savour the comfort and ambiance of your home during the colder months.