Should You Turn Off Your Fireplace Pilot Light in Summer
Posted in Gas Fireplace Maintenance, on July 06, 2022
A gas fireplace adds elegance and warmth to your home, even in the summer months. Although you may not be using your fireplace during the hot summer days, maintaining your fireplace and timely gas fireplace repair is essential for prolonging its lifespan and ensuring safety. Homeowners frequently question whether one should turn off the pilot light in gas fireplaces during summer. With gas fireplace installation, it is always best to make an informed decision and the team at Fireplace Experts is here to help.
Here are arguments in favour and against turning off the pilot light in a gas fireplace. Read on to determine which is best for you.
Turning Off Your Gas Fireplace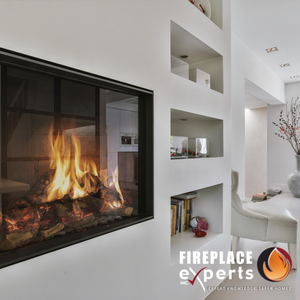 If you do not plan to use your gas fireplace all summer, you can consider switching off the pilot light because:
A small amount of heat is generated when the pilot light is on. Turning it off during the summer can reduce the temperature inside your home. Though it's unlikely to make a significant difference, switching on the pilot light while running the air conditioning can be counterproductive.
You can save gas and conserve energy by switching off the pilot light during summer. There is continuous use of gas to keep the pilot light on—turning it off will help save energy. While it may not be a significant drop in your energy or gas bill, remember, every dollar counts. Plus, you'll reduce your carbon footprint.
Keeping the pilot light on without using the main burner will leave a filmy-white residue on the inner glass. This can build up over time and should be cleaned regularly.
Pilot lights create moisture as a byproduct during combustion. While it completely evaporates when the fireplace heating is on, it can accumulate when the furnace is switched off. This moisture can cause rust and corrosion.
For many Candians, gas fireplace installation is an investment for the summer and only the summer. If you decide to turn your pilot light off this summer, make sure you know how to relight the pilot light, as cold weather and chilly nights can return unexpectedly. Improper usage can lead to the need for gas fireplace repair.
Keeping Your Fireplace On
Keeping the pilot light on means you can easily use the fireplace during chilly summer nights. No need to re-light the pilot light to turn on the fireplace.
Gas companies often add mercaptan to the gas for a pleasant odour. After switching off the fireplace, residual gas in the pipes can attract spiders as they like this smell. Spider webs can clog the heating system, and you may require professional gas fireplace repair and maintenance to keep it working.
What's Best For You and Your Home?
In the end, keeping the gas fireplace pilot light on or off is a personal preference. The decision boils down to residual heat, gas usage, and the possibility of nesting spiders. Generally, we recommend turning off the gas pilot light during the summer months. But, remember to schedule fall fireplace maintenance so that a professional technician can inspect your fireplace and keep it in mint condition.
Whether you want to save on gas during summer and keep it off or use it on chilly summer nights, we're confident you'll love your gas fireplace from the Fireplace Experts. Regular maintenance is the key to your gas fireplace's safe and smooth functioning. We're the experts when it comes to gas fireplace installation, gas fireplace repairs, safety and maintenance, including lighting and extinguishing gas fireplace pilot lights.
Connect with us for all your gas fireplace needs or more information on using & maintaining gas fireplaces, pilot lights or gas inserts.