Should You Jump On The Gas Fireplace Trend?
Posted in Gas Fireplace Maintenance, on March 11, 2022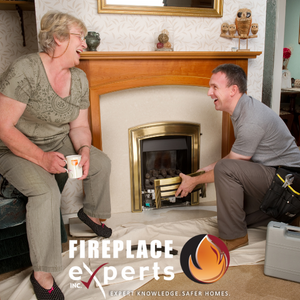 With many homeowners jumping aboard the gas fireplace bandwagon, should you be left behind? There are many compelling reasons to join the trend. For starters, gas fireplaces are highly efficient, using lesser fuel and energy than traditional wood-burning fireplaces. They're also easier to use, require minimal gas fireplace maintenance, and can add a touch of elegance to any room. At Fireplace Experts, we're the go-to fireplace specialists in Toronto for all things involving gas fireplaces, and we can help you choose the perfect one for your home! Our gas fireplace models range from traditional to contemporary, with a stunning range of accessories to enhance your fireplace experience. If you're on the fence about gas fireplaces, the pros at Fireplace Experts are here to explain why you won't regret this purchase!
Benefits Of Gas Fireplaces
Gas fireplaces offer all the advantages of a conventional fireplace without the hassle of wood. One only requires a gas line where you plan to install your fireplace. Here are some reasons why homeowners in Toronto prefer installing a gas fireplace:
Convenience: Gas fireplaces are super-convenient as you don't need to buy, chop, or season wood. There's no cleaning up of ashes or tending the fire either.
Realistic: A gas fireplace looks and feels like a real wood-burning one, only without the associated mess.
No Smoke: There is no smoky smell lingering in the room.
Energy Efficiency: Gas fireplaces are eco-friendly and more energy-efficient.
Less Maintenace: Apart from lower utility bills and lesser pollution, these fireplaces require minimal gas fireplace maintenance.
More Flexibility: The absence of a chimney means more flexibility and creativity in the placement of your fireplace.
Large Variety: You're spoilt for choice as myriad styles are available in gas fireplaces.
Types Of Gas Fireplaces
Direct Vent Gas Fireplaces
These are the most popular gas fireplaces as they score high on safety and efficiency. The two-pipe venting method ensures one pipe brings in fresh air from the outside while the other pipe expels combusted gases outside. Thus, there is little risk of carbon monoxide or gas entering your home.
Natural or B-vent Gas Fireplaces
These fireplaces usually replace an existing wood-burning fireplace. This is done by installing a gas log set that uses inside air for combustion and expels exhaust fumes through your existing chimney. These fireplaces are less efficient as compared to direct vent fireplaces.
Ventless Gas Fireplaces
These fireplaces do not require a flue and can be installed anywhere. However, they are not considered safe as they can affect indoor air quality and keep pollutants inside. This is why ventless fireplaces are banned in Canada.
Where to Install Gas Fireplaces
Gas fireplaces can be installed nearly anywhere, with a working gas line running to the firebox. You can:
Install one in the living room for a stunning style statement.
Place it in your home office for ambience and warmth.
Enjoy radiant heat in multiple rooms with double-sided fireplace units.
Install one in the bedroom for a cozy feel.
Enjoy the luxury of a gas fireplace in your bathroom.
Place a free-standing gas fireplace as an off-the-wall option.
Are you considering a gas fireplace? Whether you're looking for an upgrade or fireplace makeover, Fireplace Experts are there to help! Connect with our fireplaces specialists for the perfect fireplace that works with your interior aesthetics.