Refacing Materials for Your 2023 Fireplace Makeover
Posted in Fireplace Makeover , on January 17, 2023
Want to give your fireplace a fresh upgrade with a makeover in 2023? Refacing your fireplace can be a game-changer to update the look and feel of your home. And you're spoilt for choice in terms of fireplace refacing materials, each with its benefits and style options. Explore popular facade options for your fireplace makeover with the Firepalce Experts and modern trends that will give your home a beautiful upgrade. For reliable fireplace makeover and fireplace installation in the Greater Toronto Area, reach out the our team of professionals at the Fireplace Experts.
A Fresh Coat of Paint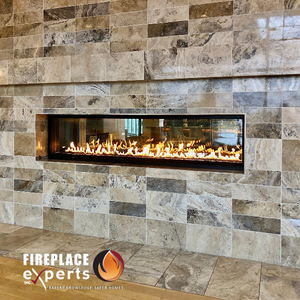 Paint is one of the simplest and most cost-effective options for refacing materials for a fireplace makeover. Pick any colour that appeals to your aesthetic sensibilities to achieve a variety of looks, from traditional to modern. Painting is also a brilliant way to cover imperfections like chips or cracks in the existing material.
Upgrade to Stucco/Concrete
Another distinctive option is to use stucco or concrete to reface your fireplace. Both materials are durable, fire-resistant, and easy to clean. Stucco can be textured or smooth—you can either paint it or retain its natural colour. Concrete can also be coloured or stained to create smooth, clean lines perfect for contemporary or minimalist-style homes. These materials can give your old hearth a sleek, modern look without needing a new fireplace installation.
Go Natural with Wood Logs
Consider refacing your fireplace with wood logs for a more natural or rustic look. It can give your fireplace a cozy, forest cabin-like feel. There's also an impressive variety of wood log options, like oak, birch, or pine, for a stunning fireplace makeover. Additionally, wood logs can conceal any existing damage to the fireplace, making them a nifty option for older fireplaces.
Make the Switch to Timeless Bricks
Brick remains the most traditional and dependable refacing material. Use an eclectic mix of the vast bouquet of colours and brick sizes, or create a classic, timeless look for your 2023 fireplace makeover. Additionally, bricks are durable and can withstand high temperatures.
Add a Modern Marble Touch
Consider refacing your fireplace with marble to give it a touch of opulent elegance. This versatile material comes in a stunning array of colours and patterns, adding a touch of luxury to any room. It's also highly durable and resistant to high temperatures. However, marble can be expensive, requiring regular maintenance to keep it looking its best.
Classic Stone Finish
Stone is another natural material that can add magic to your older fireplace. Choose from quartz, slate, granite, marble, or travertine for a luxurious focal point in any room. Add a large granite or quartz slab to make a stunning style statement, or play around with the different textures and patterns. Natural stones can be a tad pricey and require delicate care, so consider this before choosing them as refacing material.
Whether you want to give your fireplace a natural, rustic look or a more elegant and refined facade, there is a refacing material that will work for you. Ultimately, the perfect refacing material for your fireplace will depend on your personal preferences, home aesthetic and budget.
Flawless Fireplace Makeovers with Fireplace Experts
A thoughtful makeover and fireplace cleaning can breathe new life and functionality into your fireplace. Consider professional fireplace makeovers from Fireplace Experts to transform your boring fireplace into a stunning spring showpiece. Whether you need a complete renovation, remodel, reframing, fireplace repair or fireplace installation, the Fireplace Experts are here to help.
Ready to give your fireplace the makeover it deserves?