6 Myths About Fireplaces By The Fireplace Specialists
Posted in Gas Fireplace Maintenance, on May 10, 2022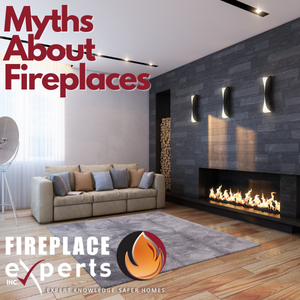 Electric fireplaces are more popular now than ever, and as they grow in popularity, some myths and falsehoods have grown with them. At Fireplace Experts, our specialists are constantly bombarded with queries about electric and gas fireplace maintenance requirements, repairs, and much more. To help clear up some of the confusion and misinformation around electric fireplaces, our fireplace specialists have compiled six common myths about electric fireplaces—and the truth behind each one.
Six Electric Fireplace Myths Debunked!
1. Electric Fireplaces Don't Provide Enough Heat
Perhaps the million-dollar question is, 'enough' for what? A typical electric fireplace provides around 5000 BTUs of heat, which is enough to heat a small or medium-sized room. The built-in fans in electric units help with even heat distribution across the room.
Also, there is no waiting as an electric unit starts giving heat the moment it's turned on.
In comparison, wood & gas fireplaces take time to heat but give off much more heat, about 20,000 BTUs. While this is substantially more than an electric fireplace, it is actually too much heat for an average-sized room. Moreover, there is no even distribution of heat.
The best part about electric fireplaces? They aren't dangerous as the units are cool to touch, making them ideal for a household with children and pets.
​​2. Electric Fireplaces Need Regular Cleaning
Electric fireplaces require minimal cleaning and maintenance compared to gas or wood fireplaces. There is no glass door or water chamber to clean with a built-in fireplace or insert. You only need to maintain the flame effect and clean the fan & filters. You may also need to change the light bulbs when required.
3. Electric Fireplaces Are Just An Image
Electric fireplaces are not limited to adding substance and ambiance to your space; they do produce heat. Run your fireplace with beautiful flickering fireplace aesthetics and enjoy the toasty warmth in winter. You can also operate the fireplace without heat, enjoying the aesthetics of fresh oak or birch logs, even in spring or summer!
4. Electric Fireplaces Are Not Eco-Friendly
Electric units not being environmentally friendly is another common fallacy. On the contrary, as there is no actual fire or combustion, electric fireplaces don't produce any toxic exhaust gases. Most fireplace specialists recommend electric fireplaces as a sustainable and green alternative that is safe for both the home and the outside environment.
5. They Are Inefficient
Electric fireplaces are actually more efficient. They consume less fuel and come with in-built fans that disperse the heat evenly. Unlike other types of fireplaces, electric units do not require ventilation, a major culprit for heat loss. Also, wood and gas fireplace maintenance is typically more than electric. Thus, electric fireplaces will save you dollars and headaches in the long run.
6. You Can't Fix Electric Units
This is just another myth. No need to panic if your electric unit malfunctions. There are trained technicians to make repairs. DIY experts can try fixing the unit with instruction manuals; otherwise, contact fireplace specialists at the Fireplace Experts. Our experienced technicians can diagnose and repair your fireplace in no time!
Hope we've cleared the air about myths and fallacies around electric fireplaces. If you're looking for electric or gas fireplace maintenance, or have further queries regarding any type of fireplace, just contact the pros at Fireplace Experts!