Make Sure To Get Your Gas Fireplace Serviced This Spring
Posted in Gas Fireplace Maintenance, on April 13, 2021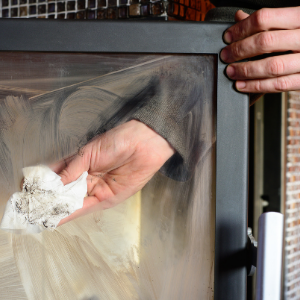 Spring is just around the corner, and the promise of sunny skies & fantastic weather beckons us all! Springtime is also perfect for your annual cleaning spree, including your gas fireplace. However, before you shut it off for summer, you need preventive fireplace maintenance & gas fireplace repair service to ensure it is in good working order for fall. Gas fireplaces come with lesser maintenance and cleaning hassles than a wood-burning fireplace, but they require annual fireplace maintenance. Neglecting maintenance can not only affect its efficiency but also the safety of operation. The best option is to contact a reliable gas fireplace repair service like Fireplace Experts who can inspect, clean and service your fireplace for smoothing functioning throughout the year!
Why Your Gas Fireplace Needs Spring Servicing
With your fireplace working overtime during the harsh Canadian winter, it needs a little TLC at the end of the primary use season! The extreme heat generated by your gas fireplace can cause a build-up of soot and debris inside. Soot can also be corrosive, so you need to thoroughly clean the logs and glass walls of your fireplace. Plus, your gas fireplace has many components that can wear out with use or simply malfunction. An expert gas fireplace repair service technician's trained eye can spot potential problems like loose connections, gasket leaks, or worn-out burners and logs.
Further, all combustion systems should be handled with care as accidental house fires cannot be ruled out. Treat your gas fireplace with the same level of caution as a wood-burning fireplace—including annual fireplace maintenance and cleaning! Also, technicians are readily available during spring, so you can schedule an appointment conveniently.
What Is included In a Gas Fireplace Service
A professional fireplace maintenance service should include a thorough inspection and cleaning for safe and continued use of your fireplace. Cleaning and inspecting the firebox & control panel compartment, pilot light assembly, burners, safety shut-off valve and burners are a must! A certified technician should test the gas ignition, thermostat and overall functioning of the gas fireplace unit to maximize efficiency. They should also check for any gas leaks and adjust the system as per the manufacturer's specifications. Why Opt For Regular Fireplace Maintenance
Most homeowners don't think about fireplace maintenance and service until something malfunctions. We forget that regular fireplace maintenance increases your fireplace's lifespan and takes care of any potential issues. With the dangerous combination of gas and electricity, it is advisable to get a trained professional to see that your fireplace is safe for use for your family and home. Prevention is definitely better than cure, and the tiny amount you spend on maintenance can save you big bucks and headaches down the road!
Safer Homes with Fireplace Experts:

Reliability. Quality. Expertise.

Leave all your fireplace woes to the pros at Fireplace Experts, your go-to guys for fireplace maintenance, gas fireplace repair & installation across Toronto and the GTA! Rest assured in our experienced technicians' expertise, licensed & trained by none other than the Technical Standards & Safety Authority (TSSA). Avail of our Annual Preventive Maintenance Plan and enjoy worry-free warmth throughout the year! Dial 416.897.5643 or email info@fireplaceexperts.ca to book an early service and skip the spring rush!