If This Happens To Your Gas Fireplace, You Might Need A Repair
Posted in Gas Fireplace Repair, on February 23, 2022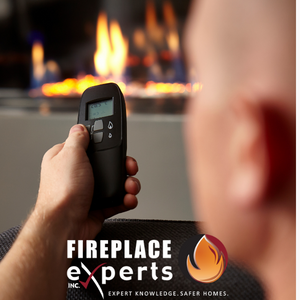 A fireplace is a handy addition to any home. It can provide cozy warmth on a cold winter night while cutting your heating bill on chilly days. But a fireplace that keeps going out and seems in need of constant repair can be annoying. Proper installation, regular fireplace maintenance, and following the manufacturer's instructions are the best ways to ensure your fireplace operates correctly and safely. However, problems can crop up, but not all issues require you to call for gas fireplace repairs in Toronto. Sometimes the solution may be as simple as adjusting the thermostat setting! Before you reach out to professional fireplace specialists, take a look to figure out the primary issue with your gas fireplace.
Here are some of the most common reasons why your gas fireplace keeps going out:
Problem: Your Thermostat Isn't Adjusting the Flame Height Correctly
Solution: Check the thermostat settings. Thermostats are usually preset at the factory to one temperature, but that doesn't mean it's the best setting for your gas fireplace. If your fireplace isn't heating up to your satisfaction, you may need to move the thermostat up or down a few degrees to get the flames higher or lower.
Problem: You Have An Issue With the Vent Or Chimney
Solution: Gas fireplaces require a vent or chimney to release the combustion gases produced. Any obstruction in the flue or chimney can prevent your gas fireplace from working as it should. Sometimes a common culprit is loose masonry on the side of the chimney. Unsecured masonry can allow heat to escape into the wall and prevent your fireplace from heating your room evenly.
Problem: Malfunctioning Thermocouple or Thermopile
Solution: Issues with the thermocouple and thermopile can restrict the functioning of your fireplace. A thermocouple detects heat and is responsible for keeping the pilot light in your gas fireplace on. The thermopile regulates gas flow to the main burner of your fireplace. A problem with either of these components can cause the flames to go out frequently. Contact a professional fireplace technician to troubleshoot the thermocouple & thermopile and carry out the necessary gas fireplace repairs in Toronto.
Problem: Your Gas Fireplace Needs Cleaning
Solution: Accumulation of dirt and dust can affect the proper functioning of your fireplace. Due to clogged burner ports, the fireplace could fail to ignite burn with an uneven flame. Likewise, a dirty thermocouple may not signal the pilot light, and the gas may be turned off. Excessive carbon buildup may also cause the safety mechanisms to kick in, stopping the pilot light from igniting or filling the gas in the chamber. You can vacuum the fireplace and clean the components with a microfiber cloth to remove dirt and carbon buildup. You can also save yourself the bother and get it cleaned professionally.
If you have a gas fireplace, you know that it is a wonderful way to add warmth and drama to your home. However, gas fireplaces have their unique set of quirks and need at least annual maintenance. If it has been some time since you last serviced your fireplace, schedule a professional fireplace maintenance service from the Fireplace Experts. Our experienced technicians will identify and solve any problems—quickly & efficiently. Contact the Fireplace Experts today for prompt fireplace maintenance or repair services in Toronto!