How to Use Your Gas Fireplace in the Summer
Posted in Gas Fireplace Cleaning, on July 25, 2023
As the sun shines upon us during summer, many homeowners bid farewell to their beloved gas fireplaces. While conventional wisdom says fireplaces have no place in warm weather, there are unconventional hidden wonders of using your gas fireplace in summer. So don't forget gas fireplace cleaning and gas fireplace service just yet. Let the Fireplace Experts help you add a new dimension of warmth and ambiance with your gas fireplace this summer!
When & How to Use Your Fireplace in Summer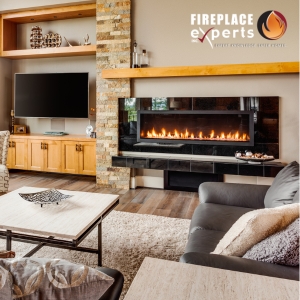 Contrary to popular belief, the summer offers delightful opportunities where the gently crackling fire can be an enchanting backdrop to your soirée. There are many cool and cloudy evenings(and days!) between June and September when you can enjoy the enigmatic glow of a gas fireplace. The radiant warmth of your fireplace can subtly create an intimate, inviting ambiance for entertaining friends or simply unwinding in the evening.
Cast an Ambient Glow
Most gas fireplaces have adjustable flames that can be lowered for a mesmerizing ambient glow during the hotter months. Keep the fireplace setting a subtle level in summer and create a calming atmosphere without generating too much heat. This gentle flame will also save energy and reduce your utility bills.
Summer Mantel Decor
Use your gas fireplace as a canvas for your artistic expression this summer! Consider adorning the mantel with delicate summer flowers, vibrant seashells, or whimsical art pieces that reflect the season's exuberance. Place large glass jars filled with sand, marbles, and shells on the mantel. Arrange driftwood around it to create a beachy ambiance. The interplay of the fireplace glow with contrasting summer elements adds a touch of magic to your space. You can use the warmer days to schedule essential gas fireplace cleaning and maintenance.
Fairy Lights
Try dressing up your fire logs with twinkling fairy lights to impart an illusion of warmth without the heat. Add a magical festive touch by placing fairy light strings around the fireplace logs. A little creativity goes a long way to jazz up your gas fireplace for every season!
Caring For Your Fireplace During the Summer
While the summer sun reigns supreme, don't overlook gas fireplace service and cleaning.
Maintain your unit's longevity and prevent debris build-up with a thorough gas fireplace cleaning.
Clear away loose dirt and dust from the exterior and interior surfaces.
Don't forget to wipe down the glass panels with a fireplace cleaner and inspect them for cracks or damage.
Schedule an annual inspection and maintenance by Fireplace Experts professionals to optimize the functionality of all components.
Whether or not you use your gas fireplace during summer, entrust a qualified technician to check the gas lines. The specialists at Fireplace Experts will ensure that your gas fireplace has no leaks or blockages and is safe to use.
Booked Your Summer Gas Fireplace Service?
Ignite the perfect ambiance and enjoy your gas fireplace throughout the year. Don't neglect summer gas fireplace cleaning and service! Let the Fireplace Experts take care of all your gas fireplace service, cleaning, installation, makeover, or enhancement needs. As the premier Fireplace company in the GTA, Fireplace Experts are the true experts in safe fireplace installation, repair & maintenance. Our TSSA-certified fireplace technicians are committed to safe homes with exceptional service. Book a Fireplace Experts gas fireplace service today!