How to Take Care of Your Fireplace
Posted in Gas Fireplace Maintenance, on September 11, 2023
As the summer comes to a close and fall approaches, the time to dust off your fireplace has arrived. There's nothing quite like spending the frosty days nestled in a warm room illuminated and heated by a beautiful gas fireplace. But before get the flames going it's important to know how to take care of your fireplace before you make it an every day appliance. From fireplace repair, cleaning, and fireplace maintenance, learn how to keep your gas fireplace in good shape with assistance from the experienced team at the Fireplace Experts.
Get Started with Gas Fireplace Cleaning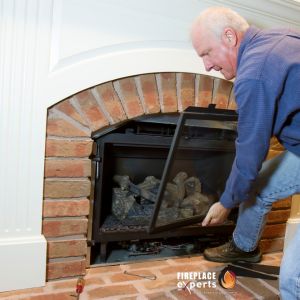 Throughout the year, whether it's being used constantly or not, gas fireplaces can be exposed to a number of contaminants. Over time, soot, dust, and debris can accumulate in your fireplace, affecting its efficiency and safety. If fireplace cleaning isn't prioritized, build up of contaminants can quickly interfere with the efficiency of your fireplace, the quality of its performance, and it can cause potential safety hazards. At the Fireplace Experts, our team of experienced specialists offer comprehensive cleaning services to keep your fireplace in good shape to minimize the need for fireplace repairs.
Keep Your Fireplace Healthy with Maintenance
Once you've ensured that your gas fireplace is in good condition to start the cooler season, it's essential that you sustain that with fireplace maintenance services. Maintenance from trained and experienced professionals includes glass inspections to ensure that there is no deterioration, safety shut off tests, pilot light care, gas ignition system tests, leak inspections, and more. These thorough inspections and upkeep that occur during fireplace maintenance are designed to extend the life of your fireplace and ensure that it is functioning safely by preventing problems like soot buildup of carbon monoxide leaks. Scheduled gas fireplace maintenance in Toronto, Vaughan, and the Greater Toronto Area with the Fireplace Experts will help you sustain the health and enjoy its warmth with peace of mind.
Fix Damage Fast & Effectively with Fireplace Repair
Despite your best efforts a malfunctioning part or accidental collision can cause damages to your fireplace. Gas fireplaces are intricate systems that depend on all of its components to work together. When there is damage to your fireplace, it's best to prioritize repairs from a specialist who understands the intricacies of the system. Some common fireplace damages include malfunctioning pilot lights, broken glass, cracks or loose parts. If you notice physical damage to your fireplace or changes in its operation, temporarily cease use and contact an experienced fireplace repair provider to ensure you can get your gas fireplace back up and running.
Choose an Experienced Service Provider
When it comes to safety, proper cleaning, repairs, and maintenance are essential. The best approach to taking care of your gas fireplace is to find a professional service provider that will be diligent and reliable. At the Fireplace Experts, our entire team is trained and experienced enabling us to deliver high-level services since 2008. For all your gas fireplace needs, contact our team right away.