How to Select a Gas Fireplace Log Set
Posted in Gas Fireplace Maintenance, on February 14, 2022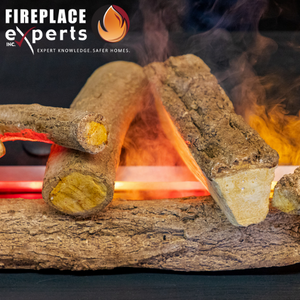 Selecting the perfect log set for your gas fireplace can transform the mood and ambience of your space. However, things can be overwhelming when faced with the myriad options, configurations, and customizations available. Don't despair; the fireplace specialists at Fireplace Experts are here to help! Fireplace Experts is a full-service gas fireplace maintenance and repair company specializing in quality fireplace inspections, installation, repair, maintenance, fireplace cleaning, and certification of gas fireplaces and gas log sets. This article will walk you through the finer points you should consider when selecting a gas log set for your home.
Start with a Plan
Before buying a gas log set, you should know the size and style of the fireplace you are converting into a gas fireplace or adding to an existing gas fireplace. Think space, connection clips, and additional accessories such as grates, blowers, etc. You should also determine whether you will insulate your fireplace early in the planning process—if so, you will need to make sure the space around your hearth is big enough for the insulation.
Vented Vs Vent-free Gas Logs
Choosing between vented & ventless log sets is the next step.
Vented logs require a working chimney in an approved fireplace opening. The realistic flames & look of vented gas logs lend an aesthetic appeal but lack energy efficiency. Ventless gas logs provide better heating, but they need an approved firebox and a carbon monoxide detector. Ventless logs use indoor air to burn and also release emissions. Moreover, vent-free fireplaces are illegal in Canada due to the potential health risks.
Fuel Type
Ensure you know the fuel type you will be using before purchasing your log set. Gas fireplace logs can use natural gas or propane but remember—a natural gas system will not work on propane, or vice-versa, without a custom conversion kit. Most cities & suburbs have an underground piping system for natural gas. Far-flung areas where natural gas is not available use propane fuel typically stored in large tanks.
The Gas Log Size
The size of your fireplace will determine the size & type of the gas logs you can buy. Improperly sized logs can overheat and may even damage your firebox. Measure the depth, height, front, and back of the fireplace carefully and allow for recommended clearance.
Ignition & Control Options
There are several choices in the type of ignition system and the control options in gas log sets:
Manual Ignition: A manual ignition system is the most basic, but it is reliable and inexpensive. A valve key is used to control the gas flow, and a lighter or match is used to ignite logs.
Manual Safety Pilot Ignition: This option adds the safety of a pilot system to the manual ignition. A valve key or knob is used to light the log set, but the pilot light must be lit by hand.
Remote Safety Pilot Ignition: These ignition systems offer the advantage of a manual safety pilot system with a compatible remote controller. Just push the remote button to conveniently light your fireplace.
Electronic Safety Pilot: An electronic ignition offers the greatest convenience and control. It uses hardwired circuits or batteries to automatically ignite the logs at the push of a button. You can also adjust the flames and switch the logs on & off remotely.
Choose the convenience of gas logs this winter! Leave the hassles of wood outside and connect with Fireplace Experts to safely convert your old fireplace. Whether you're looking for gas log set installation, repair, gas fireplace maintenance, or a fireplace makeover, contact the fireplace specialists at Fireplace Experts today!