How to Know If Gas Fireplace Installation Is Right For You?
Posted in Gas Fireplace Installation, on July 14, 2022
As a homeowner, the possibilities are endless when it comes to incorporating new items into your home. Adding a fireplace can make all the difference, creating an ambiance of elegance and cozy warmth throughout your home. Gas fireplace installations are all the rage in these eco-conscious times—they burn clean and require minimal maintenance or fireplace repair. If you're dreaming of getting a stunning gas fireplace, there are some things you should consider before purchasing. At Fireplace Experts, we help you through the whole process - from start to finish. Here's a quizzical kick-starter to know whether gas fireplace installation is right for you.
What Style of Fireplace Do You Want?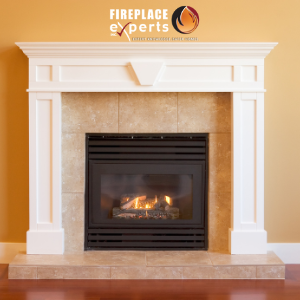 It is essential to select a fireplace that complements your home's interiors and architecture, your design sensibilities, and your specific needs.
If your design tastes gravitate towards traditional decor, there are limitless options with beautiful flames, realistic embers and logs.
Contemporary designs are available in sleeker silhouettes, with linear flames, panoramic viewing angles and luxe materials like black onyx or Italian marble. Modern gas fireplaces are all about avant-garde aesthetics, while classic designs are subtle and with a warm, nostalgic vibe.
Gas fireplace models have different sizes—factor in the space available while selecting one. This is especially important if you are adding an insert or have an existing chimney.
With a wall thermostat, you can even control the flame size and, consequently, the heat output. Contemporary style flames can be artistic and functional, while manufactured logs promise more authentic, realistic-looking flames.
What is Your Budget?
Gas fireplaces come in various models and price points—from the most basic gas fireplaces to premium, luxury models with all the frills & trims. If upgrading your old fireplace, gas inserts or conversion into a vented fireplace can be relatively cost-effective. Get in touch with fireplace pros like The Fireplace Experts to select the fireplace that best fits your aesthetics and budget.
Where Would You Like To Place Your Fireplace?
Gas fireplaces can be placed almost anywhere—from the standard living room to bedrooms, home offices, and media rooms. However, the location will determine the most suitable gas fireplace style for your home. With decor and designs redefined, gas fireplaces can now add comfort and glamour to decks and outdoor patios. Today's sleek, modern fireplaces are akin to art; they are often the centrepiece, positioned higher on the wall than the traditional hearth. A built-in, linear fireplace will be most appropriate if you're planning a new fireplace on an exterior wall.
Make sure you ask yourself the above questions to choose the gas fireplace that works for you and your home!
Fireplace Design to Completion with the Fireplace Experts
Take your fireplace project from design to completion with the pros at the Fireplace Experts! We'll be with you at each step—from initial design consultation to fitting and gas fireplace installation. Fireplace Experts will help install gorgeous gas fireplaces in your Toronto home. We offer full-service gas fireplace repair and installation with attention to detail, ensuring your fireplace is working its best. The team at Fireplace Experts is committed to keeping your home warm & safe and keeping our customers satisfied. Enjoy the cozy comfort of a gas fireplace on a fall night without the worries of soot, ash, or firewood!
Connect with the experts for a design or installation quote today!