How to Give Your Fireplace a Facelift
Posted in Fireplace Makeover , on April 28, 2023
A fireplace is often the focal centrepiece of a living room, but an outdated fireplace that's not your style can detract from its aesthetic appeal. Fortunately, transformational fireplace makeovers and gas fireplace cleaning can provide an instant facelift. This can include quick refacing updates or complete refurbishing. The pros at Fireplace Experts give you a run-through on inspirational fireplace makeovers to revamp your space!
Updating Your Fireplace: The Options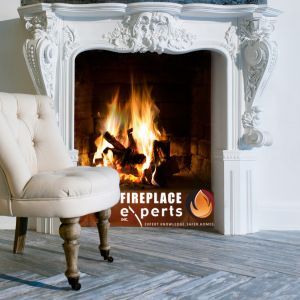 A fireplace makeover or facelift depends on your home/personal style, budget, and the condition of your existing fireplace. You can choose to celebrate a multitude of themes and experiment with different materials and colours! And don't forget essential gas fireplace cleaning and maintenance with your update! Here are some practical yet aesthetic options to try:
Redefine Functionality: Modern fireplaces go beyond the traditional hearth to add design and functionality to your living space. It can be a focal point for your art, a sleek media anchor, or a dramatic highlight for your decor pieces. You can even change the decor according to the seasons for a mini fireplace makeover every 4-5 months.
Re-Paint: Re-painting your old fireplace is an affordable and straightforward way to give it a weekend facelift. Choose colours that complement your decor, or go bold with a statement hue to make your fireplace pop!
Reface: You can also reface the existing fireplace with new facade materials like stone, brick veneer, or tiles. This can give your fireplace a beautiful new look and is an excellent option for damaged or outdated facades.
Modernize: If your old fireplace is beyond repair or obsolete, you may need a more extensive makeover. Consider modern gas inserts for a traditional fireplace or update it with a newer model.
Facade Materials
Give your gas fireplace an instant uplift by refacing it with a different material. Some popular options include:
Tiles: Tiling is a versatile option that allows you to explore a riot of colours, patterns, and textures. It's durable and easy to clean, making it an excellent choice for a fireplace facade.
Stone Veneers: Modern stone veneers are a lightweight, convenient, and cost-effective alternative to natural stone. They're easy to install and give your hearth an earthy, rustic charm.
Brick Veneer: Traditional brick veneers are another trending option for refacing dated fireplaces. They can give your gas fireplace a classic, timeless look and are an affordable and durable option.
Fireplace Facelift Benefits
Updating your fireplace goes beyond surface improvement in home aesthetics. Here are a few more reasons why a fireplace makeover is a smart bet.
Energy Efficiency: While traditionalists love a wood-burning fireplace, upgrading to a gas or electric fireplace model can significantly improve your home's energy efficiency.
Improved Safety: Older fireplaces can pose a safety risk as they are prone to cracks, leaks, or other damage. Updating your fireplace and undertaking regular gas fireplace cleaning ensures it is in optimal working condition and safe to use.
Enhance Home Value: A beautiful, functional fireplace can enhance your home value and make it more appealing to potential buyers.
Fireplace Experts for a Fireplace Facelift
Considering a fireplace makeover? Choose the Fireplace Experts for quality work, vast experience, and professional expertise. We undertake to transform all types of fireplaces, taking care of your budget, time, and home aesthetics. Fireplace Experts is committed to safer homes and exceptional customer service from start to finish. Create a custom fireplace with the Fireplace Experts.