How to Clean a Gas Fireplace & Gas Logs
Posted in Gas Fireplace Cleaning, on December 21, 2021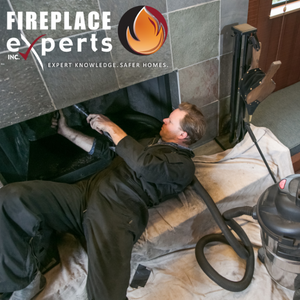 Modern-day gas fireplaces are low maintenance and a super convenient alternative to the traditional wood-burning fireplaces. However, don't confuse low maintenance with no maintenance! Though propane and natural gas are clean-burning fuels, they leave some residue and soot. Proper cleaning and annual fireplace maintenance of your fireplace are essential for peak efficiency and avoiding unnecessary gas fireplace repairs in Toronto. Read on for some top tips to clean your gas fire logs and fireplace.
How To Clean a Fireplace
Prepping Up: Before you begin cleaning your gas fireplace, ensure that all components are completely switched off. This will prevent any gas leaks during cleaning. Likewise, make sure the fireplace has cooled down before starting the cleaning process. You'll need to remove the fireplace glass, gas logs, and the burner for cleaning. Read and carefully follow the manufacturer's instructions in the fireplace manual for removing these components. (Don't move or try to clean Vent-free logs yourself; they should be cleaned only by professional fireplace maintenance and cleaning technicians.)
Cleaning the Glass: Place the fireplace glass on a clean towel to facilitate cleaning. Spray with a mild diluted vinegar solution and water to remove any build-up. Wipe clean with a soft microfibre cloth or paper towels. You can also use specific fireplace glass cleaning solutions, but avoid regular cleaners as they can leave a residue and stain upon heating.
Cleaning the Fireplace: Next, use a damp cloth to wipe the exterior body of the fireplace. Use a handheld vacuum cleaner to clean the gas fireplace interiors. If there are small decorative stones or rocks in the fireplace, please remove them before you vacuum inside.
Cleaning the Gas Logs: Now, clean the gas logs you had removed earlier. Gently dust off the logs with a soft-bristled brush. Don't wash or wipe the log or use any cleaning solutions. As mentioned earlier, never move or clean Vent-free logs yourself due to the safety hazards involved.
Reassemble: Once the cleaning is complete, reassemble the glass, burner, and logs carefully. Make sure you follow the manufacturer's instructions to put them in their correct position.
How Often to Clean a Gas Fireplace
The frequency of cleaning a gas fireplace depends entirely on how often you use your fireplace. Ideally, gas fireplaces should be cleaned monthly or quarterly when you use them every day. Otherwise, clean the fireplace as needed and ensure an annual cleaning if not in use!
Fireplace Inspection: When & Why
Get your ventless or vented gas fireplace inspected by experienced fireplace maintenance professionals every year. A semi-annual inspection of the venting system is recommended to keep it clean and debris-free. Check-ups by a certified and trained fireplace professional will help spot potential problems to keep you safe and avoid expensive gas fireplace repairs in Toronto.
Flawless Fireplaces with the Fireplace Experts
Enjoy a cozy and warm home all winter with the fireplace experts! We're licensed, certified, and insured to ensure a clean and flawless fireplace for you! Whether you need maintenance, installation, restoration, or gas fireplace repairs in Toronto, Fireplace Experts have you covered. Leave the messy cleaning and fireplace maintenance to the professionals at Fireplace Experts. Call us or fill our online form to schedule your fireplace service or cleaning today!