How To Clean A Gas Fireplace
Posted in Gas Fireplace Cleaning, on August 16, 2021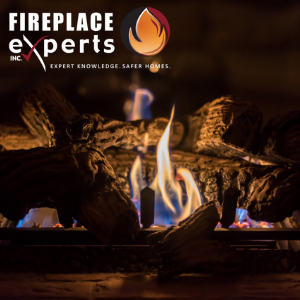 Wrapped in the cozy warmth of your gas fireplace, one can easily forget that gas fireplaces also need cleaning. As there is no ash or natural logs to deal with, gas fireplace cleaning may be the last thing on your mind. However, regular cleaning and maintenance of your gas fireplace will ensure that it works at peak efficiency throughout the year. While an annual gas fireplace repair & inspection by a professional is a must, routine cleaning can be done yourself. Read on for a low down on the basic gas fireplace cleaning process from the professionals at Fireplace Experts:
Tools & Materials Required
Hand broom or soft bristle paintbrush
Vacuum with a hose attachment
Small piece of cheesecloth or net
Fireplace glass cleaner
Paper towels
Microfiber cleaning cloth(recommended) or soft cleaning cloth
Basic Gas Fireplace Cleaning Procedure
The first thing to do before you begin cleaning is to turn off the gas valve! Ensure that the pilot light is turned off and wait for a couple of minutes to allow the gas to leave the piping.
Now, open the gas fireplace doors. Using a microfiber cloth or paintbrush, dust off the ceramic logs and the decorative fireplace grate. Each log should be dusted off carefully with the brush or hand broom to dislodge any dirt or dust. Take care to never use water or spray cleaners on the internal fireplace components. Inspect each log for any corrosion, cracks or other visible damage. If you find any, contact gas fireplace repair professionals like Fireplace Experts to check for repair or replacement of the logs.
Next, using the vacuum, remove any dust, dirt, or debris around the fireplace and its vent. Then vacuum the inside of the firebox, including the ceramic logs. If your fireplace has lava rocks too small for the vacuum hose, use a piece of net or cheesecloth to cover the vacuum hose. Keep it in place with a rubber band and vacuum the lava rocks thoroughly. Clean the firebox walls using the microfiber cloth.
There can be buildup on the fireplace doors due to the combustion process. Spray a fireplace glass cleaner on the microfiber cloth or clean paper towels and gently wipe off the dirt buildup. Do not spray directly on the glass as it may land on the metal parts and corrode them. Also, never use regular or lye-based cleaning solutions; use a glass cleaning solution specifically meant for gas fireplaces to ensure your fireplace is sparkling clean!
Finally, wipe clean the outside of the firebox, and you're done! Just remember to turn on the gas the next time you use your gas fireplace.
This basic gas fireplace cleaning should preferably be done every month. If your fireplace is used frequently, you should go for deep cleaning. This requires the fireplace to be disassembled and the glass doors, ceramic logs, and other components removed. We recommend a professional gas fireplace cleaning for a thorough deep clean, as safely dismantling the oven is essential.
Hardpressed for Time to Clean & Maintain Your Gas Fireplace?
Don't worry; the pros at Fireplace Experts will be happy to help! Fireplace Experts have been proudly serving homeowners across Toronto and the GTA since 2008. Trust us for outstanding gas fireplace cleaning, service, restoration, and installation. All at prices you'll love! Calls us to schedule a COVID-compliant cleaning service today!