How Regular Repair and Service Can Help Your Gas Fireplace Last
Posted in Gas Fireplace Repair, on February 18, 2021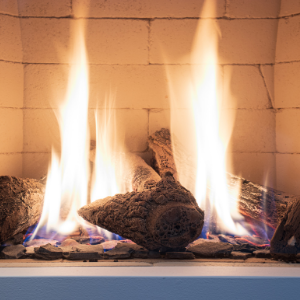 A gas fireplace is one of the most favourable interior design choices for your home. That's because it acts as an aesthetic focal point in your home while also providing a function. Homeowners experiencing Toronto's cold winters can benefit from functional and well-maintained gas fireplaces. In fact, with proper fireplace service, your fireplace can last up to 25 years while avoiding any gas fireplace repairs. But how do you regularly service your fireplace to help it last?
What is Gas Fireplace Services?
From cleaning gas logs, to pilot inspections, checking vents and more, the Fireplace Experts can help service and keep your fireplace in its best shape. Our technicians follow a 10-step maintenance approach with regular check-ins and service to help you avoid any costly gas fireplace repairs. Here are a few ways standard gas fireplace service can help your fireplace last.
Prevent Breakdowns Before They Occur
While gas fireplaces may require a different kind of maintenance than wood-burning fireplaces, you can catch and prevent any breakdowns before they occur with regular inspections and maintenance. Not to mention gas fireplace repairs can be costly, meaning you'll end up saving money with thorough inspections rather than waiting until you need an extensive repair.
Keep Your Home Safe
Gas fireplaces are more common in today's modern homes, but homeowners often fear gas because of the dangers it poses. With regular inspections, homeowners can feel comfortable knowing their gas fireplace is functioning correctly, and their home won't be subject to risk.
Technicians Can Fix Any Problems You Have
The average hands-on person may want to service their gas fireplace, but we don't recommend it! Gas fireplaces are intricate, and it's essential to have a professional inspect them to avoid any issues. With regular inspections, a trained technician can be aware of any problems and help fix them right away.
What Does Regular Service and Maintenance Look Like?
Fireplace Experts' regular checkups include a thorough inspection and cleaning of pilot lights and burners. It includes testing to see if the system is operating correctly, a review of the gasket seal, an intensive cleaning of the whole fireplace, glass, control system and firebox. We also provide safety checks, an examination of the thermostat and remote switches, double-check for ignition delays, complete cleaning and more.
Regular Repair and Service With Fireplace Experts
For professional gas fireplace repairs, fireplace service and more, contact the technicians at Fireplace Experts. While a DIY approach may appear to save you money in the short term, our experienced technicians can help you save money in the long term. With regular maintenance and service, you not only save money but can also increase the longevity of your gas fireplace. Prevent and find any issues with your fireplace before they occur. For more information on gas fireplace service in the greater Toronto area, visit Fireplace Experts online or give us a call.