How Often Should Gas Fireplaces Be Serviced?
Posted in Gas Fireplace Repair, on September 01, 2022
With fall and cold weather approaching, fireplace season is right around the corner. Getting fireplace repair and service out of the way ahead of a sudden cold autumn day will help you bask in the uninterrupted warmth of your home fireplace. Yes, even the clean-burning, super-efficient gas fireplaces need regular maintenance and cleaning.
Thankfully, the Fireplace Experts team can help with all your fireplace care and even fireplace makeovers! Here are some tips for scheduling fireplace repair and maintenance to keep your fireplace in mint condition.
How Often Should You Schedule Routine Fireplace Maintenance?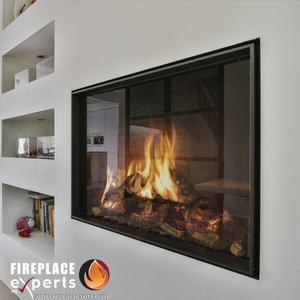 Though gas fireplaces burn cleanly, without smoke or wood ash, they require regular maintenance and necessary fireplace repairs. This ensures overall safety and extends their lifespan. The required frequency of fireplace service and maintenance depends on your fireplace use. If you love the cozy warmth of your fireplace from fall to spring, you may need a yearly or six-monthly service. Most experts recommend an annual gas fireplace service to ensure that your fireplace runs smoothly and has no damage/issues. You can choose to clean your fireplace on your own(follow the manufacturer's instructions) between inspections or schedule a professional cleaning.
What to Expect from Fireplace Maintenance Service?
The Fireplace Experts recommend a detailed 10-step preventive maintenance service that includes:
Inspection of the fireplace exterior and gasket seal for cracks or gaps.
Checking the fireplace glass for cracks and clean build-up.
Inspecting the firebox interior and control panel compartment.
Inspect and clean the pilot light assembly.
Check the gas burner for leaks and clean it for maximized gas efficiency.
Test and inspect the safety valve.
Check gas ignition for safe and instant start.
Check the fireplace thermostat and controls.
Inspect logs and ember beds for possible damage and perform the necessary repairs/replacements.
Inspect overall fireplace functions, including carbon monoxide detectors.
Signs You Need Fireplace Repair
Sometimes you may need urgent professional fireplace repair, even though you're not due for fireplace maintenance. Here are warning signs that indicate you need to call a trusted professional fireplace service.
Significant Build-Up: If stubborn dirt and residue build-up on your fireplace doesn't seem to go away, it's time to seek professional help. This extra build-up can be a potential safety hazard, so ensure it is professionally cleaned.
Gas Leak: If you smell burning wires or gas, immediately call a certified fireplace repair company or your utility company to identify and fix wiring or gas leak problems. Though most gas companies add an odorant to help detect gas leaks, one can't rely only on smell. Watch out for hissing sounds of a gas leak, a non-lit pilot light, or broken parts in your gas fireplace. Meanwhile, switch off the fireplace, open all doors & windows, and leave the house till help arrives.
Condensation: Never ignore condensation signs in your gas fireplace—there may be issues with the airflow or temperature.
Fireplace Repair, Maintenance & Makeovers With The Fireplace Experts
If you live in Toronto or the GTA and need professional gas fireplace repairs or service, trust the Fireplace Experts. Our professionally trained and experienced technicians ensure flawless fireplace repairs, maintenance, installations, and fireplace makeovers.
Experience the convenience of seamless service, safety, and peace of mind with the Fireplace Experts.
Connect with us to schedule all your fireplace repairs, service, installations or makeovers!