Gas Fireplaces: Repairing vs. Replacing
Posted in Gas Fireplace Repair, on October 13, 2021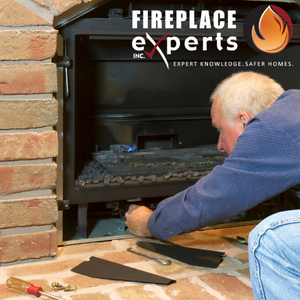 Appliances aren't meant to last forever, and that includes your gas fireplace. They have a functional lifespan and need repair, maintenance, and replacement like any other appliance. If your fireplace is malfunctioning or has started showing signs of wear, you may be in a dilemma about whether to repair or replace it. Else, you may be looking for a fireplace makeover in your renovated place or thinking of buying or selling your house. Choosing between replacing or repairing your gas fireplace is a tough ask. Let Fireplace Experts make it a little easier for you! Read on for expert advice on fireplace replacement vs gas fireplace repairs in Toronto.
Gas Fireplace: When to Repair
Repairing a gas fireplace depends on the overall condition and age of your appliance.
If it still functions and needs a minor tweak or maintenance, repair may be a good option. However, fireplace professionals caution that one should expect only functional repairs; repairs may not be cost-effective if you want a complete fireplace makeover.
Overall, gas fireplace repair in Toronto may be a better choice if:
There's only a minor issue with the fireplace.
The fireplace is still aesthetically pleasing.
You're satisfied with the features of your existing fireplace.
You want to extend its lifespan with new components.
The fireplace is moderately old.
Sometimes a thorough fireplace service can solve minor issues with your appliance. Ignoring or neglecting repair and maintenance can reduce the life of your fireplace and lead to early replacements. Repairs may or may not be expensive, but a reliable fireplace company can offer options to suit your budget.
Gas Fireplace: When to Replace
Replacing a gas fireplace may be better than repairing one if your hearth is past its prime. A typical fireplace latest 10-15 years, depending on the maintenance and quality. Homeowners may also want a fireplace makeover with modern features and better aesthetics. It is difficult to replace isolated components with more advanced fireplace features like ceramic logs and sealed glass. Significant design changes may warrant a complete replacement. If the uplift needs substantial changes, then a replacement may be more beneficial.
Generally, one should go for a replacement if:
The fireplace technology is dated compared to newer models.
It requires frequent or significant repairs.
It works but looks old and worn out.
You want a fireplace makeover with the latest design features.
You plan to buy/sell your house & want your home to look its best. (fireplaces can add around 12% to the value of an average house)
The fireplace is inefficient or unsafe for use.
If the fireplace's lifespan is past its halfway mark and repair cost is around 50% of a new fireplace, it may be better to replace the unit. A complete replacement of your fireplace may be expensive in the short term, but it will give better ROI in the long run. Cutting-edge technology, contemporary looks, and better heat management are some advantages of fireplace replacement. What's more, you can say goodbye to constant repairs and maintenance stress to enjoy peace of mind!
Still Unsure about Repair or Replacement? Reach Out to the Fireplace Experts.
Our experienced team can help you make an informed decision based on your requirements, budget, and lifestyle preferences. We can also inspect your fireplace and suggest repairs or replacements. Fireplace Experts are the trusted professionals for fireplace makeover, installation, and gas fireplace repair in Toronto. Start a fireplace conversation. Contact us for a free fireplace consultation & quote today!