Gas Fireplace Trends in 2023
Posted in Fireplace Makeover , on December 20, 2022
A gas fireplace can bring luxurious aesthetics and ambient warmth to any home, hospitality, or commercial space. Looking ahead at current trends and classic styles can help with your fireplace makeover if you plan to upgrade your home in the coming year. Modern fireplaces are not limited to only being functional appliances; They add an extra dash of style and luxurious ambiance to any space. Whether installing a new fireplace or needing fireplace repair, the pros at Fireplace Experts can help you create a stunning yet functional focal point in your home. Here are some leading fireplace makeovers and design trends to inspire you in 2023.
Minimalist Simplicity & Linear Designs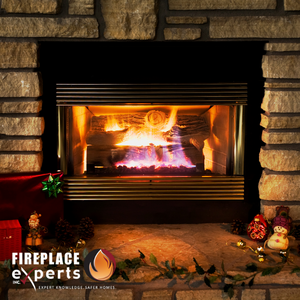 Clean and simple finish gas fireplaces have been ruling the design waves for a while, and this trend will continue into 2023. Homeowners today are choosing simple and neutral finishes that can blend into their current homes instead of elaborate details and bulky hearths. Linear designs are versatile and can enhance both contemporary and traditional style interiors. Fireplace Experts has a wide range of sleek fireplace inserts for an elegant makeover, and our specialists can also undertake any fireplace repairs or maintenance that you may require.
Multiple-Sided Glass Fireplaces
Multiple-sided glass fireplaces are another luxurious fireplace trend that oozes sophistication & style. Gas fireplaces with glass walls on opposing sides or all over can create a bold and dramatic focal point. This gas fireplace style can be further enhanced with a marble, stone, or wood surround. The glass setting creates a visually stunning effect as the ambient flames can be viewed from all sides. Use them as a statement divider between spaces for a dramatic horizontal fire. With more people working from home nowadays, home interior design needs to incorporate separate areas that provide privacy. Multiple-sided gas fireplaces can double as space dividers and offer a classy yet cozy ambiance.
Frameless Flames
Make those beautiful flames the ultimate show-stopper by going frameless! These no-border gas-fireplace beauties allow you to install them wherever you please—place them on a wall or use them as a spectacular stand-alone feature. Undoubtedly, frameless fireplaces are at the forefront of futuristic fireplace designs with their clean, modern lines and infinite design possibilities. You know you can't go wrong with the timeless appeal of a frameless fireplace.
Maximize Your Fireplace
Super-sized fireplaces with oversized chimneys, multiple burners, and hearths are in vogue, and how! Create a dazzling centrepiece for your commercial, hospitality or residential space with a dramatic extra-large fireplace. Bold fireplace aesthetics are perfect for hospitality and large commercial spaces like restaurants and hotel or condominium lobbies. Statement design elements like wooden accents, glass, and mirrors, add that extra oomph! Extra-large fireplaces also make large spaces cozy and welcoming with their ambient warmth.
Ready to Makeover Your Old Fireplace?
If you've finally decided to jumpstart 2023 with a fireplace makeover, choose Fireplace Experts. Entrust our experienced installers and fireplace specialists to transform your old unit into a bespoke beauty you'll cherish for years! We'll work with you from start to finish, from picking the size & type of your gas fireplace to adding design elements to create your dream fireplace. Whether you prefer a state-of-the-art modern aesthetic, contemporary class or a traditional hearth, Fireplace Experts have you covered. We're your trusted professionals for fireplace repair, installation, and makeovers in Toronto & the GTA.
Connect with us for a free fireplace makeover quote and consultation today!