How Often Should I Service My Gas Fireplace?
Posted in Gas Fireplace Maintenance, on October 09, 2020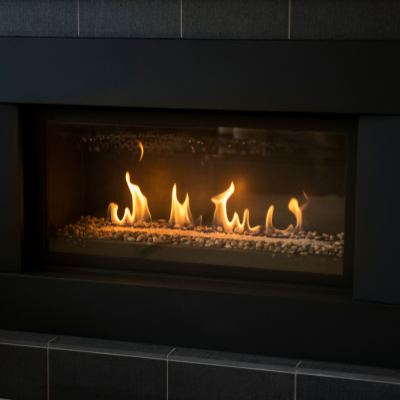 A gas fireplace can add to the value and aesthetic of any room in your home. But what many people don't realize is that maintaining and servicing your gas fireplace in Toronto regularly can actually increase its longevity. When life gets busy, people often forget that regular servicing can benefit you in the long run and instead wait until they're in desperate need of a repair. Whether you decide to check on your gas fireplace a few times a year yourself, or book an appointment with a professional gas fireplace service in Toronto, both can help you save time and money in the years to come. But what exactly does servicing your gas fireplace mean?
How Often Should I Service My Fireplace?
While gas fireplaces are often considered a maintenance-free investment, it still requires some care. The Fireplace Experts will often recommend yearly cleanings as well as regular safety inspections to ensure your fireplace is working properly. Because it is a gas appliance, you don't want to risk the safety of you and your family because of a lack of check-ins. When properly maintained, we guarantee your fireplace will perform at its best quality for many years to come.
What is a Fireplace Inspection?
A gas fireplace service in Toronto usually consists of a visual and thorough inspection of your fireplace inside and out. Whether it's checking to see if the heating system works, to the control panel and everything in between. The professionals at Fireplace Experts are well-trained and equipped to handle any gas fireplace repairs in Toronto.
How Do I Inspect My Own Fireplace?
While you can inspect your own gas fireplace, it's often recommended to seek professional inspections as experts in the field will be able to properly assess and determine whether your fireplace is in need of service. But if you're looking for a DIY approach here are some tips:
Inspect the glass and gasket seal of your fireplace, this will ensure that it hasn't deteriorated.
Clean the fireplace and removae any build-ups of debris, you can do this by thoroughly wiping down the interior of your fireplace, the glass, and the control panel while manually removing any excess materials and/or debris.
Always check to see if the pilot light is in correctly and is clean
Test to see if the shut off safety switch is working correctly
Double check the gas burner is clean, has no leaks, has full gas efficiency and that there is no delay when starting the gas system ignition
Test the gas thermostat and any other controls to turn the fireplace on and off
Call Fireplace Experts For All Your Gas Fireplace Repairs in Toronto
After you've completed a self-assesment of your fireplace you're one step closer to ensuring it's working to its best standard. If there are any issues with your gas fireplace, call the professionals at Fireplace Experts. Our technicians offer quality repairs, inspections, regular maintenance, cleaning and more! If you're looking for high-quality gas fireplace service and repairs in Toronto give us a call at 416-897-5643 today.