Gas Fireplace Installation Mistakes to Avoid
Posted in Gas Fireplace Installation, on August 10, 2022
A new fireplace can transform your home, so it's no wonder that installing a new one is so exciting! Despite the excitement and wanting to get it lit right away, take time to ensure that each aspect of fireplace installation is done correctly. Improper installation can cause problems with your new fire feature, create a safety hazard, or require expensive fireplace repairs in Toronto. Installing a fireplace requires experience and expertise—it's advisable to opt for professional fireplace installation from the Fireplace Experts.
To prevent any potential trouble, here are some fireplace installation mistakes to avoid.
Picking the Wrong Valve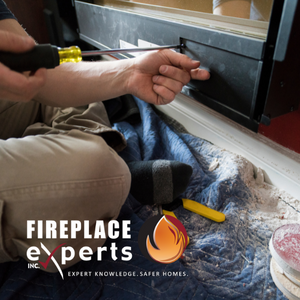 Gas fireplaces come with a range of burner systems and valves. Fireplace classics are the millivolt standing pilot systems and the electronic gas valves. A millivolt system uses a pilot assembly with a small pilot light that is always lit. While a millivolt system does not require outside voltage, an electronic gas valve requires 120 volts power supply. If one is unfamiliar with the type of valve needed for a particular gas fireplace, they may end up connecting the power lead to a terminal block! Besides being hazardous when switched on, it can damage the valve, its linked components, and the pilot assembly. Prevent such dangerous situations by hiring a competent and experienced professional for gas fireplace installation.
Vent Pipe Selection
Choosing the appropriate vent pipe for exhaust gases that is compatible with your fireplace is essential. Every fireplace unit has a list of approved ventilation components vetted by the manufacturer. A B-vent fireplace catches combustion air from inside the room. Direct vent gas fireplaces have a ceramic or tempered glass pane to close the combustion chamber to the room. These fireplaces use dual vents—an outer vent for drawing outside air and an inner one for venting the exhaust gases into the atmosphere.
Space Between Vent & Framing
Ensure that the vent pipe is at an adequate distance from the wood framing around the fireplace. Else, it can be a fire hazard as the vent pipe can get very hot and cannot be placed close to the wood framing. Don't avoid making structural changes to keep the venting at a safe distance from the wood framing in the house.
Gas Log Installation Mistakes
Select the correct gas log set: Wrong size gas logs will not vent efficiently and cause poor heating performance. Sizing mistakes can also cause gas emissions to leak inside your home. Always measure your firebox and leave room for clearance—then buy a log set that will fit it properly.
Choose the right gas log type: Vented gas logs require a working chimney with an approved fireplace opening. Ventless logs don't need a chimney. They can be used with an existing fireplace with a closed flue.
Insulation Hazards
With an increasing focus on energy efficiency, home insulation is a must to seal the house and minimize the effect of outdoor temperature fluctuations. Your fireplace installation must factor in clearance to combustibles. Avoid a fire hazard by ensuring the insulation is not placed too close to the fireplace. Insulate the wall cavities around but avoid insulation against the fireplace. Fasten the insulating material with metal strapping to prevent it from falling against the fireplace.
Flawless Fireplace Installation by the Fireplace Experts
An improperly installed fireplace will not work correctly and can be a safety threat to your family & home. Choose the Fireplace Experts for professional installation, makeovers, & fireplace repair in Toronto. We care about your safety and ensure that every fireplace installation is done right—the first time around! Connect with the Fireplace Experts for flawless fireplace installation today!