3 Hot Trends in Fireplace Makeovers in 2022
Posted in Fireplace Makeover , on April 01, 2022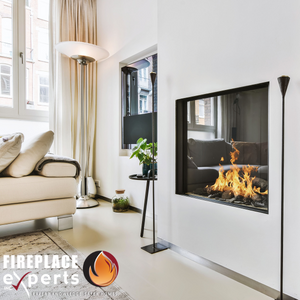 The growing interest in home renovations and the increasing energy prices make fireplace renovation projects and gas fireplace repairs in Toronto an exciting trend. Undoubtedly, the latest fireplace designs will surely update the style of any room to the next level. At Fireplace Experts, we believe gas fireplace makeovers will be at the centre stage of fireplace design in 2022. Here's a sneak peek into three of the hottest trends in fireplace makeovers.
Functional Fireplace Makeover Designs
Combining beautiful home aesthetics with functionality is a critical component of fireplace makeovers in 2022. Fireplaces channel a versatile and practical space this year, focusing on efficiency and optimum utilization of space. Integrating a double-sided fireplace into the walls can help you enjoy the cozy warmth of your gas fireplace in two different rooms. The three-sided corner fireplaces or 'peninsula' fireplaces can be used as showstopping room dividers, adding drama and elegance to any room. They can subtly separate the living room, kitchen or dining area from other spaces, combining home aesthetics with functionality. Many homeowners are also embracing bold new trends by mounting LCD TVs above the fireplace! Your boring, old mantelpiece can be given a stunning and functional makeover by incorporating a neat bookcase or floating shelves. The latest designs in outdoor/indoor fireplaces follow the functional beauty trend. Apart from being the ideal centrepiece, they are incredibly versatile as they can be utilized in all seasons. Revel in a beautiful summer evening with a fire on the deck outside, or relish the radiant warmth of the same fireplace from your couch on a cold winter night.
Complementing & Completing Your Interior Design
Another trending but minimalistic approach is integrating gas fireplace makeovers to complement your existing room aesthetic. The fireplace is a striking style statement, so choose a design that complements the room's decor and colour scheme. Simplicity is a vital concept within the trends for 2022, so select minimalist designs without unnecessary details. Consider a balanced bouquet of colours to maintain continuity, or go for a contrasting palette to make the fireplace stand out. The best fireplaces blend seamlessly into the decor to create a stunning style statement.
Natural Design Trends
Fireplaces with a natural look and feel is another trending makeover idea that can be a game-changer. Raw building materials like wood and stone can transform the focus and ambiance of a room. The latest gas fireplace designs can elevate the classic stone or wood facade to a sophisticated masterpiece. If you wish to go back to the basics for a rustic look, you can opt for stacked rocks. Experiment with the colours and shape of the stone for a style that can be the room's focal point. The evergreen marble is both classy and contemporary. Add a dramatic flair by contrasting the clean cold lines of marble with brilliant flickering flames underneath. The design flexibility of natural materials makes for truly unique fireplace fashion—you can't go wrong with it!
Inspired for a Mantel Makeover?
When it comes to fireplace renovation and gas fireplace repairs in Toronto, quality matters! If you're looking for top-tier gas fireplace installation, makeovers, maintenance, or repairs, choose The Fireplace Experts. Our professional advisory team will be happy to assist you with that dream fireplace installation or makeover. Connect with us today for all your fireplace queries and trendsetting fireplace designs & makeovers for 2022!