Everything You Need to Know About Gas Fireplaces
Posted in Gas Fireplace Installation, on September 03, 2020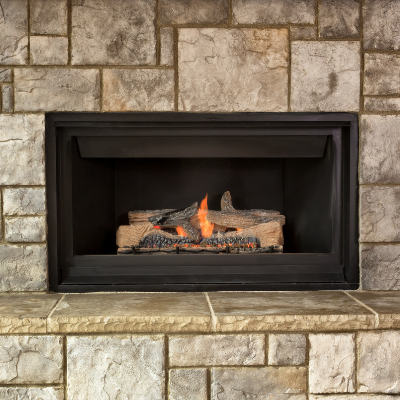 Sitting by the glowing warmth of a crackling fireplace is the quintessential winter favourite. The fireplace has evolved from a mere utility for heating to the centrepiece of our home, adding aesthetic value and warmth along with energy efficiency. Gas fireplaces come with all the advantages of traditional wood-burning fireplaces, without the inconvenience and health hazards of the latter. For all gas fireplace services in Toronto, look no further, Fireplace Experts has created a complete lowdown on gas fireplaces for you:
Types
Gas fireplaces mainly comprise three main types:
The log set: It uses the traditional old fireplace and chimney fireplaces to gas by installing a grate, burner and artificial logs.
Gas inserts: These are complete units that can be fitted into a pre-existing firebox and are ideal for homeowners looking to upscale their old fireplaces. They can use the home gas lines or have their own propane tank fitted outside the house.
Built-in fireplaces: They are the best of the lot as they do not require a chimney and come with wide aesthetic options. You can choose ones that mimic traditional fireplaces to modern futuristic designs.
Venting Options
Though gas fireplaces don't require a chimney, venting is required for the removal of combustion gases. Natural draft venting uses a vertical vent or pre-existing chimney to utilize the natural draft caused by the hot temperature of the fireplace. However, much of the heat generated goes up the chimney, negating the energy efficiency. Similarly, a power vent uses an exhaust fan to remove the combusted gases. New age 'vent-free' options offer high energy efficiency, yet they still give off water vapour and CO. Plus, their effect on indoor air quality is still suspect. Direct venting is thus the best choice as it uses a built-in metal duct to get fresh air from outside and expels the exhaust fumes through a separate pipe. As the fireplace is sealed from the front, there is no loss of warm indoor air and no exhaust gas gets into the room.
Hassle-free Installation
The built-in gas fireplaces are versatile beauties with zero-clearance, as they can be easily adorned within wood framing and standard construction materials. While most installations can be done by DIY enthusiasts, you should hire a gas fireplace service and installation professionals like Fireplace Experts to take care of electrical and gas connections.
Low Maintenance
Probably the best part about gas fireplaces is the convenience. You can turn them on instantly and there are no hassles of buying wood, kindling fires or cleaning chimneys & grates! You only need an annual inspection with a reliable gas fireplace service in Toronto to keep your gas appliance in a safe and optimal running condition.
The Little Extras
In case it fits your budget, it makes sense to go for the best additional features like circulatory fans, electric ignition, flame variability option and a remote for seamless operation and thermostatic control.
Gas fireplaces add that red-hot panache to your home in addition to cozy warmth and effortless functionality. However, for years of safe and hassle-free warmth, you need an annual gas fireplace service in Toronto.
Trust the pros at Fireplace Experts for all your fireplace solutions
We'll help you install the perfect fireplace to suit your discerning taste and style! The undisputed leaders in gas fireplace service and gas fireplace repair in Toronto, we have been providing top-tier services in the entire GTA since 2008. Allow a Fireplace Expert advisor to tell you more about our unique Gas Fireplace Preventive Maintenance Plan. Call 416.897.5643 or visit our website https://www.fireplaceexperts.ca today!