Choosing the Best Log Set For Your Gas Fireplace
Posted in Gas Fireplace Maintenance, on December 15, 2021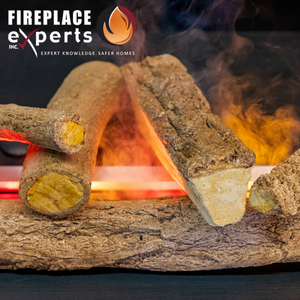 One of the best things about gas fireplaces is the minimal gas fireplace maintenance required. Probably the most challenging part is choosing the best log set! Selecting the proper gas log set can transform the mood and ambience of your space. However, it's hard to determine the ideal log set for your home with the different types and options available. Luckily, our fireplace specialists have come up with a neat blog to help make the choice easier!
Venting Options
The first choice you need to make is between vented and vent-free (ventless) gas logs.
Vented Gas Logs
These logs have realistic & natural-looking yellow flames.
Need a functional wood-burning fireplace for installation.
Have radiant heat similar to burning wooden logs.
Some soot is produced when the flame touches the logs; this could mean a bit of gas fireplace maintenance.
Overall, vented log sets are less expensive than ventless logs.
Vent-Free Gas Logs
Greater heating capacity warms up your home quickly.
They are more environmentally friendly as they cause less pollution (almost complete fuel is burned).
Don't need venting; they can be installed in a vent-free or wood-burning fireplace.
Need a Carbon Monoxide detector & Oxygen Depletion System.
They can cause humidity inside.
Check local codes for permitted usage as vent-free logs are not allowed in some areas.
Log Size
Your gas logs need to complement your fireplace size. Measure the depth, height, back width, and front width of your fireplace. Allow some extra clearance room for airflow to prevent overheating or damage to the firebox.
Control Options
The power to control is entirely your choice! Whether you want a manual ignition, remote control or flame adjustment, there are many options to choose from. Of course, more features come at a higher price, but they also offer greater comfort.
Match Light or Manual Ignition: Gas logs are lighted manually with a long lighter or match.
Manual Safety Pilot: This lighting method includes a safety pilot light assembly similar to the ones in a water heater. The pilot light is lit manually, and the burner can be turned on or off manually with a control knob.
Electronic Remote Control: This lighting method allows operation from a remote with an electronic ignition system. You can switch the pilot light on or off with a flick of the remote. You can also adjust and control the flame height with the remote.
Fuel Type
Gas logs use either natural gas or liquid propane. If you already have a natural gas connection for other appliances, the gas logs can use the same. If there is no gas line, you can choose between the two. While natural gas costs less and is more readily available, liquid propane burns much hotter. It is best to check locally for the fuel available in your area. Also, be sure about the fuel type before buying your gas logs. Gas fireplace logs are specifically designed to work with a fuel type. A propane log unit will not operate on natural gas, or vice versa, without an additional conversion kit.
Every homeowner and every home has different needs. Let the fireplace specialists at Fireplace Experts help you choose the right gas logs or fireplace for your home & budget. No matter the gas logs you choose, don't forget the annual gas fireplace maintenance and inspection to keep your set in prime running condition! Contact us today!