Benefits of Professional Fireplace Cleaning
Posted in Gas Fireplace Cleaning, on April 21, 2023
A cozy fireplace can add warmth and charm to any home, providing comforting heat during cold winter days. However, with great comfort comes the responsibility of regular fireplace maintenance for safe and efficient functioning. While you can clean the fireplace yourself, professional gas fireplace cleaning in Etobicoke has numerous benefits. Here's why professionally cleaned fireplaces equal a safer and cleaner home and hearth.
Maximize Efficiency & Function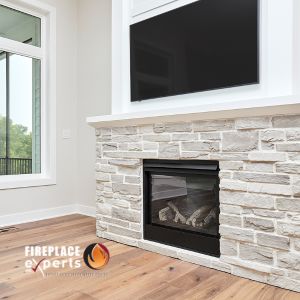 Soot, debris, and stubborn creosote can build up in your gas fireplace over time. This can reduce its efficiency and functionality. Professional cleaning and fireplace maintenance will effectively remove these blockages for optimal operation. Fireplace professionals are trained to ensure no traces of soot or debris are left over to corrode and hinder your fireplace's performance. They can help maximize heat output for blissful, cozy fires throughout winter.
Extend Lifespan
Regular maintenance and fireplace cleaning in Etobicoke can go a long way to extend the lifespan of your appliance. Professional technicians at the Fireplace Experts are familiar with signs of gas fireplace damage and structural loss. Besides cleaning the fireplace, they will inspect it for damage and ensure all components work correctly. Whether it's a non-operation pilot light or a broken gas log, a professional fireplace technician can spot damage and repair or replace it promptly. Preventive maintenance strategies by professionals at Fireplace Experts can extend the life of your fireplace and save you time & money.
Minimize Fire Damage
A dirty, unkempt fireplace can be a severe fire hazard. Creosote buildup is highly flammable
and can cause a chimney fire. Professional fireplace maintenance and cleaning will eliminate this hazardous substance to keep your fireplace safe for use. Fireplace cleaning experts are experienced and trained to clean gas fireplaces–you can enjoy a high standard of service when you opt for professional fireplace cleaning in Etobicoke.
Prevent Water Damage
Water exposure can be damaging to your fireplace as condensation in gas fireplaces is a common problem. White or damp patches on exterior masonry, ceiling stains, or dampness along the interior walls indicate moisture that can corrode and damage your gas fireplace. Professional fireplace cleaning can ensure you can catch the signs of water damage early and avoid expensive fireplace repairs by addressing the problem in time.
Soot Cleanup
One has to deal with the hassle of soot and regular cleaning in a wood-burning fireplace. While it may look harmless, soot can be hazardous to your health. It can trigger respiratory issues and is especially damaging for people with asthma or allergies. A professional fireplace cleaning will safely remove the soot and ensure your home's indoor air quality remains healthy.
Professional Fireplace Cleaning & Maintenance
At Fireplace Experts, we understand your concerns about maintaining a safe and efficient fireplace. Our experienced and certified team has the latest technology and equipment to safely eliminate debris, creosote, and soot from your fireplace. Our fireplace maintenance services will ensure your unit functions at its peak efficiency. And if you need help with fireplace installation, inserts, or makeover services, we're just a call away! Ready to enjoy the functionality and sparkle of a professionally cleaned fireplace?
Contact our experts for professional fireplace cleaning in Etobicoke and experience the Fireplace Experts difference!