Benefits Of Installing A Gas Fireplace
Posted in Gas Fireplace Installation, on May 20, 2022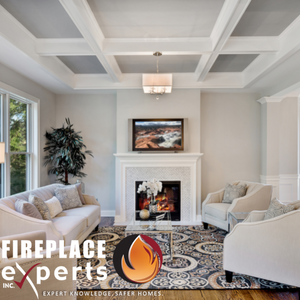 Our homes are our sanctuaries; they protect us from the elements, keep us warm, and provide tranquillity in times of chaos. But when a natural disaster or a simple power outage strikes, you'll be thankful you have a gas fireplace to save the day! From increased energy efficiency and lesser need for gas fireplace repairs in Toronto to easy fireplace maintenance, gas fireplaces score well over other types of fireplaces. Read on for more gas fireplace benefits and why you need to install one in your home.
Worry-Free Power Supply
Perhaps the most significant benefit of a gas fireplace is worry-free power. You need to buy or chop wood to keep the flames going with wood-burning fireplaces. You may also need a place to store all that wood. An electric fireplace is of no use in a power outage. Thankfully, you need not worry about gas supply or storage with a gas fireplace. Your gas fireplace can provide ambient warmth even in a power outage.
Worry-Free Maintenance
Another advantage of using a gas fireplace is easy fireplace maintenance. Other kinds of fireplaces, especially the wood-burning stoves, require constant maintenance. The ash and other residue produced by wood-burning fireplaces need regular cleaning and maintenance to keep them functional. Luckily, gas fireplaces require minimal maintenance and gas fireplace repairs in Toronto. Your annual fireplace cleaning & maintenance service is all that is needed to keep your unit in top shape!
Easy to Use
Another reason homeowners are switching to gas fireplaces is their easy usage and convenience. A wood-burning fireplace requires time and patience to start a fire. With a gas fireplace, you can have a roaring fire at the press of a button or switch. You can easily adjust and control the temperature with the thermostat. Gas fireplaces come with a thermostat and the option of flame control. You also have access to continuous heat without the need to tend to it.
Less Pollution
A gas fireplace is a cleaner and more sustainable option than a wood-burning fireplace. The indoor and outdoor air quality in a gas-based fireplace remains clean and free from smoke, soot, and other toxic particulates. Contrarily, a wood-burning fireplace releases harmful smoke and other pollutants into your home and the environment. Reduce your carbon footprint and protect your health by choosing a clean and green option of a gas-based fireplace.
Energy Efficient
Did you know that almost 51% of household energy consumption is attributed to heating and cooling the home? So choosing a heating option that is energy efficient is vital for conserving both money and the environment. Gas fireplaces are a viable energy-efficient option for the conscious homeowner. You can use your gas fireplace and central heating to provide 'zone heating.' This means that you can heat any particular room or area in the house instead of the entire house. Gas fireplaces also offer more control over fuel usage.
Flawless Fireplaces With The Fireplace Experts
Are you looking for more information and help on installation & gas fireplace maintenance in Toronto and the GTA? The pros at Fireplace Experts can help! We specialize in all types of fireplace maintenance, gas fireplace repairs, installation, and inspections! Contact us today to schedule a free consultation and see how a gas fireplace can transform your space