Benefits of a Gas Fireplace in the Winter
Posted in Gas Fireplace Installation, on December 14, 2022
A gas fireplace is a beautiful winter addition to your home, especially if most of your days will be spent indoors. Running your fireplace keeps your home warm and toasty while creating the perfect winter ambience. Think cozy comforters, marshmallows, hot cocoa, and the beautiful dancing flames of your fireplace. But don't forget timely fireplace cleanings and gas fireplace services to prep your unit for a snug winter. Here's a quick look at some blissful benefits of a gas fireplace in winter.
Convenience & Constant Heating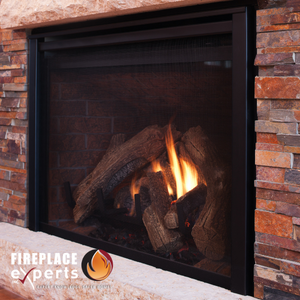 Though wood-burning fireplaces have a quaint charm, they require a lot of effort to keep the fire going. Apart from the struggle to start the fire, one must tend to the fire, stoking the flames, adding logs, and more. Thankfully, gas fireplaces are hassle-free—you don't have to worry about adding logs or the fire dying out. Gas fireplaces ensure an uninterrupted flow of natural gas to keep your fire going. The only work you need to do is switch on the unit and enjoy the cozy warmth.
Easy Maintenance
Gas fireplaces come with the promise of easy cleaning and minor maintenance. Unlike traditional wood-burning fireplaces, gas-based units don't require frequent fireplace cleaning and upkeep. However, you'll want to ensure that your fireplace runs at peak efficiency with an annual gas fireplace service. Regular fireplace cleaning is also necessary for a safe and smooth operation. It's no wonder that gas fireplaces are popular with homeowners as they require minimal maintenance and convenient operation.
Minimal Smoke, Maximum Comfort
Gas fireplaces do not release toxic exhaust or fumes inside. Natural gas burns cleaner and protects the indoor air quality on freezing days when you spend most of your time inside. Thus, gas fireplaces safeguard your family's health and are eco-friendly. Be a green warrior and reduce your carbon footprint with a natural gas fireplace.
Energy Efficiency
Gas fireplaces score over their wood-based counterparts in energy efficiency. The heat generated by a traditional wood-burning fireplace tends to escape through the chimney. The heating is also concentrated around the fireplace. Gas fireplaces can warm a greater area, and no warmth is wasted. This translates into more significant savings on energy costs in the long run.
Instant Aesthetics & Ambience
Gas fireplaces can instantly transform your space to add charm and convenient heat. Make a stunning style statement with a sleek contemporary gas fireplace, or stay traditional with decorative surrounds and grills. Play around with aesthetic features like ambient backlighting and other media features to create a custom fireplace that reflects your taste and style.
Kid & Pet Friendly
Wood-burning fireplaces can be a safety hazard for homes with kids and pets. Flying sparks, open flames, and smoke are all potential threats. Thankfully gas fireplaces are a safe and child/pet-friendly option to heat your home this winter.
Gas Fireplace Installation & Maintenance With Fireplace Experts
Winter is the perfect time to switch to a gas fireplace. Keep the winter chills away with a new efficient, and cost-effective gas fireplace from Fireplace Experts. Whether it's a gas fireplace service, installation, makeover, repair, or fireplace cleaning, trust the experts at Fireplace Experts!
Looking for your free service estimate, design or installation quote!