A Guide to Prolonging Your Gas Fireplace
Posted in Gas Fireplace Repair, on October 18, 2022
Gas fireplaces are a treasure trove for most homeowners, from their warmth and comfort to the beautiful aesthetic they deliver to your home. Natural gas fireplaces add instant chic and class to your living space without the hassles of a wood-burning one. As the winter season draws close, getting recommended fireplace maintenance can improve the performance and longevity of your gas fireplace. Choose the Fireplace Experts for superior maintenance & gas fireplace repairs in Toronto to keep your appliance geared up for Canadian winters. Here are three expert tips to prolong the life of your fireplace.
Clean Your Fireplace Regularly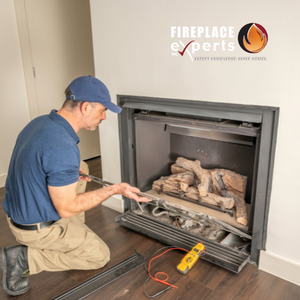 Take some time to clean your fireplace interiors at least twice a year. Gas fireplace cleaning is a breeze—no messy ash or soot. Before you begin, avoid accidents by ensuring that the gas valve is turned off and the fireplace is completely cool. Regular fireplace maintenance will help you avoid trouble in the long run.
Glass
Gas fireplace glass doors can be easily removed to facilitate cleaning. Follow the appliance manual for instructions to remove the glass doors and place them on an old towel or newspaper. Use a gas fireplace glass cleaner and a soft, microfiber cloth to gently wipe the doors. It's vital to avoid harsh cleaners using ammonia-based products or cleansers that can leave behind any residue. Dry using paper towels or a clean, lint-free cloth and replace the glass doors. Wait for half an hour before using the fireplace to allow any residual glass cleaner to evaporate completely.
Fireplace Interior
Use a hand-held vacuum to gently remove dust and debris inside the fireplace. Cover the vacuum wand opening with a cheesecloth before cleaning any lava rocks. This will prevent small lava rocks from being sucked up by the vacuum hose.
Gas Logs
Clean the gas logs with the vacuum and avoid moving them. If there is excessive soot or build-up on your vented gas logs, follow the manufacturer's instructions to remove and clean them. Take a picture of the logs before taking them out—this will help place them back in the same position. Use a soft-bristle brush to carefully remove build-up. Wipe with a microfiber cloth. Water can damage the logs, so never wash, damp-wipe or use cleaners on gas logs. Moving vent-free gas logs can be a safety risk. Always hire a qualified technician to handle and clean vent-free gas logs.
By employing regular cleaning, you can avoid the need for fireplace repair in Toronto. When you need fireplace maintenance or repair in Toronto, contact the Fireplace Experts.
Replace Batteries
Perform a bi-annual safety check to test that the carbon monoxide and smoke detectors are working correctly. Replace their batteries every six months, and also replace the batteries in your fireplace remote. You'll be thankful for a working remote if you need to quickly turn off the fireplace in an emergency.
Get Professional Maintenance
Annual fireplace maintenance and tune-up by a trained professional are necessary to avoid fireplace repairs in Toronto and catch potential issues early. This will ensure safe fireplace operation, increase the durability of your fireplace, and prevent unexpected repair bills.
Professional Fireplace Repairs in Toronto
If you're experiencing issues with your gas fireplace, it's best to reach out to a team of professionals to get it back to peak performance. With more than 14 years of dedicated gas fireplace services across the GTA, Fireplace Experts know the ins and outs of fireplaces to keep your home warm and cozy. Contact the team at Fireplace Experts for fireplace maintenance, repairs, and installations you can trust.