6 Fireplace Makeover Ideas
Posted in Fireplace Makeover , on January 04, 2022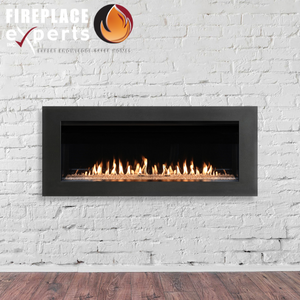 The fireplace is a fantastic focal point for any living room. Yet, it's a common misconception that the fireplace is purely for aesthetic appeal. The fireplace can play a vital function in your home when it comes to heating and, more importantly, energy efficiency. It can be an excellent secondary source of heat in the cold winter months for home areas where space heating is not as efficient. Refreshing your existing fireplace and mantel is one of the most impressive and cost-effective ways to update your home. Below are six gorgeous fireplace makeover ideas that can be implemented in your home!
1. Repaint the Fireplace Surround
Giving your dated fireplace a fresh coat of paint can transform its aesthetics. Consider a contrasting colour to your existing walls for a striking effect, or choose a complimentary one for a classy finish. Whichever colour you choose, make sure you get premium quality paint for an even, beautiful colour that stands the test of time. Painting the mantel or the trim can also give your fireplace a different look. Also, don't forget to get a fireplace cleaning service to do justice to the paint job.
2. Mantel Magic
Mantels can add personality and charm to a boring fireplace. Dress it up with new artwork, accent pieces, or even a stunning mirror. You could also give your mantel a facelift by adding new shelves or replacing it with a sharp, new one. From rustic to contemporary, mantels come in accessible DIY models that can be fixed in a jiffy.
3. Cultured Stone
Create a striking natural look with a cultured or faux stone surround that is easy on the pocket and great on style. Heavy stone or brick is difficult to install and can be labour-intensive. Cultured stones are cast-fit to replicate a real stone wall and are less expensive than natural stones. Their easy installation makes them a popular choice amongst homeowners. Fireplace companies like Fireplace Experts can help source cultured stone and undertake a complete fireplace makeover for you!
4. Tile Tales
Another great way to enliven a boring fireplace is by using tiles. Bold patterned tiles around the fireplace can be a dramatic focal point. Or create an artistic pattern or an eye-catching geometric surround to transform your fireplace. Decorative tiles can also be used as accent pieces to frame the firebox. Both cement and ceramic tiles are available in many designs and patterns. Unleash your creativity with an interplay of colour, designs, and textures that suit your style and taste.
5. Mix It Up!
Mix media materials for a stunning fireplace makeover. Break the monotony with a wood & stone combination, tile with stone, or any combination that appeals to your aesthetics!
6. Shape-Shifting
Change the shape of your fireplace for a new look! Fireplace faceplates can change your arched fireplace into a sleek modern one or craft the appearance of an arched fireplace. Also, don't worry whether you need an arched fireplace insert for an arched fireplace. You don't! Just measure the fireplace opening to determine the size of the fireplace insert required.
Inspired to change your boring fireplace yet? A statement fireplace is undoubtedly one of the best ways to spruce up a dull space. Whether you wish to go for a complete fireplace makeover or slight remodel, trust the Fireplace Experts to make your fireplace come alive! From fireplace makeovers, refurbishing, and remodelling to installation, maintenance, & fireplace cleaning, our hearth professionals can do it all! Contact us today to upgrade your fireplace's efficiency, style, and functionality!