5 Reasons Your Gas Fireplace Keeps Going Out
Posted in Gas Fireplace Repair, on March 04, 2022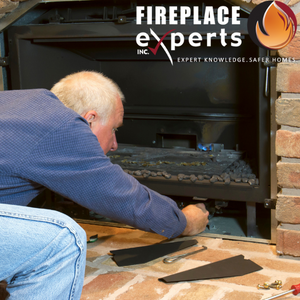 A gas fireplace makeover can turn an outdated area into a great addition to your home, providing warmth and comfort on chilly days and nights. However, if your gas fireplace keeps going out, it can be a real inconvenience and could indicate calling for gas fireplace repairs in Toronto. If you've been having trouble with your gas fireplace, you're not alone. Gas fireplaces can be finicky, and they sometimes go out for no apparent reason. If this has been happening to you, don't worry - our fireplace experts are here to help.
There could be several reasons why your gas fireplace keeps going out. Here are some of the most common ones:
1. Lack of Maintenance
If your gas fireplace isn't properly maintained, it could easily go out. A lack of regular cleaning and inspection can cause the unit to become
clogged or dirty, leading to inefficient performance and, ultimately, an extinguished flame.
2. Incorrect Installation
If your gas fireplace was not correctly installed, it might not be functioning correctly. Incorrect installation can also be a fire hazard, so it's essential to have a qualified professional install your gas fireplace.
3. Dirty or Clogged Gas Fireplace
One of the most common reasons your gas fireplace might be going out is because it's dirty or clogged. If there's too much dust or dirt in the system, it can prevent the fireplace from functioning properly. To clean your gas fireplace, start by turning off the gas supply and unplugging the unit. Next, use a vacuum cleaner to remove any dust or dirt from the inside of the fireplace.
4. Thermostate issues
One of the most common issues with gas fireplaces is a malfunctioning thermostat. If your thermostat isn't working properly, it won't be able to regulate the heat output, which could lead to all sorts of problems.
Some of the most common symptoms of a faulty thermostat are:
The fireplace doesn't turn on or off when it's supposed to
The flames are inconsistent or too high
The fireplace is producing more smoke than usual
If you're experiencing any of these problems, it's important to call a professional fireplace technician to diagnose and fix the issue.
5. Malfunctioning Thermocouple or Thermopile
here are a few things that can go wrong with your gas fireplace, but the two most common problems are with the thermocouple or thermopile. These are both important parts of your gas fireplace, and it is essential to keep them in working order.
If your thermocouple is not working properly, it will not allow the gas fireplace to start. The thermocouple is a sensor that measures the temperature of the pilot flame. If the temperature is not correct, the thermocouple will stop gas flow.
If your thermopile is not working correctly, it will not generate enough electricity to start the pilot light. The thermopile is a sensor that converts heat into electricity. If it is not working properly, the pilot light will not stay on.
It is important to have these parts inspected and repaired if they are not working correctly. Contact the qualified fireplace specialists at Fireplace Expert for gas fireplace repairs in Toronto to have them looked at.