4 Essential Fireplace Maintenance Tasks
Posted in Gas Fireplace Repair, on July 16, 2021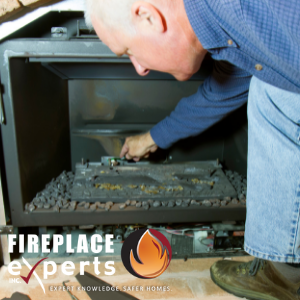 As you bid adieu to spring and enter into the warmer summer months, your fireplace will not be used for some time. However, this does not mean one should forget about it till fall! Instead, this is the perfect time to complete the four essential fireplace maintenance tasks. If you need any help with maintenance or fireplace restoration in Toronto, you can get in touch with our specialists at Fireplace Experts.
Turn Off The Pilot Light
It makes sense to turn off the pilot light during the summer months to save energy. In gas fireplaces, the pilot light generates heat and uses gas if it's left on. As you are sure, you won't be using the fireplace till fall, be an energy warrior and turn off the pilot light to save on your utility bills. This small but sustainable change can save you a few hundred dollars during the summer months!
Clean The Glass
The fireplace glass can be foggy and dirty with buildup after a long and cold Ontario winter. Once you've stopped using the fireplace, it's advisable to clear up all the accumulated buildup. Carefully remove the glass and clean it with a soft cloth and a recommended fireplace cleaner. Do not use any abrasive material, and if you notice any cracks or chips on the glass, contact a trusted fireplace maintenance company like Fireplace Experts to replace them. This essential glass cleaning will keep your fireplace looking new and sparkling!
Clean & Inspect the Unit
Use the summer months to thoroughly clean and inspect your fireplace unit.
Vacuum the interior to get rid of dust and debris.
Check the ceramic logs for wear n tear. In case they look faded or damaged, you can simply replace them.
Clean all the ports and valves with a fireplace cleaner and a soft clean cloth.
Test fire the interior gas ignition to make sure it ignites correctly.
Check for any gas leaks; the smell of gas even when not in use indicates a probable leak. Get in touch with fireplace maintenance professionals if you suspect a gas leak and do not use the fireplace until it has been inspected and repaired.
Also, check that your carbon monoxide monitors are working correctly. If you don't have one, it makes sense to get it installed for your safety.
Get Required Repairs
Summer is the ideal time to get your fireplace checked by professional fireplace maintenance technicians. As the fireplace is not in use, you don't have to wait for it to cool or experience any downtime issues. Just get in touch with Fireplace Experts for all your repair and maintenance needs so you can have your fireplace ready for use in the fall. If you are looking to upgrade your fireplace entirely, Fireplace Experts has some fabulous affordable and aesthetic fireplace restoration options in Toronto.
With these 4 essential fireplace maintenance steps in place, rest assured of a clean and hassle-free fireplace all year round! And if you find fireplace upkeep a tad messy, you can leave the cleaning and maintenance to the pros at Fireplace Experts! We offer top-tier fireplace maintenance, repair, installation, and restoration that is fast, efficient & affordable! We'll ensure that your gas fireplace is working safely and at peak efficiency to save on your energy bills! Call us or fill up our online form to schedule your summer fireplace maintenance service today!