3 Types of Gas Fireplaces
Posted in Gas Fireplace Installation, on July 19, 2023
Gas fireplaces bring unparalleled comfort, convenience, and ambiance to our homes. However, one must be mindful of the dangers of an unattended and neglected fireplace. Regular gas fireplace cleaning and maintenance ensure optimal functionality throughout the year. Summer is perfect for much-needed cleaning and fireplace repair in Toronto. Join the Fireplace Experts as they explore the unique characteristics of the most popular gas fireplaces and their individual cleaning & repair needs.
Direct-Vent Fireplace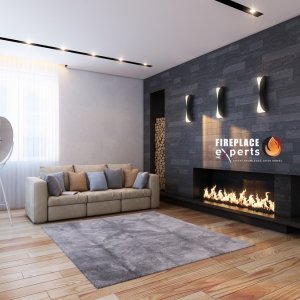 The direct-vent fireplace is a blend of aesthetics and functionality. It relies on a sealed venting unit with a two-pipe system. The intake pipe draws fresh outside air while the exhaust pipe expels combustion gases and byproducts safely. Direct vent systems are popular due to their versatility and ability to operate without compromising indoor air quality. They can be installed almost anywhere in the home, offering spectacular designs and a large viewing area.
Direct-vent units require regular fireplace cleaning and maintenance. Inspect and clean the glass front & vents for optimal performance. Interior components like the burner should be checked and cleaned professionally to ensure efficient and safe operation. Annual maintenance also ensures fireplace repairs in Toronto are addressed promptly.
Vent-Free Gas Fireplace
Vent-free gas fireplaces are free-standing systems that eliminate the need for external venting altogether. These fireplaces provide the best heat output as the heat stays within the home. Vent-free fireplaces also offer flexibility, allowing homeowners to install them in various locations within the home. However, their flame display is less intense.
Vent-free fireplaces can be controversial as a slight malfunction can release hazardous exhaust gases inside the home. These fireplaces mandate an in-built oxygen depletion sensor(ODS) and demand meticulous cleaning & maintenance due to the internal combustion system. Routine fireplace cleaning should include exterior glass, burner, pilot assembly, and fire logs to ensure correct gas flow and prevent buildup. Vent-free fireplaces also require annual inspections by qualified technicians to verify the gas pressure and detect potential issues.
B-Vent Fireplace
B-Vent fireplaces provide the charm and ambiance of a traditional wood-burning fireplace in a gas-based unit. These fireplaces employ a single-pipe system that draws combustion air from inside the home while expelling exhaust outside through a dedicated vent. Its elegant designs can add warmth and style to any room!
Regularly inspecting the vent and ensuring it remains free from blockages is crucial to maintain proper airflow and prevent creosote buildup. Routine cleaning of the logs, burners, and control compartments ensures optimal performance and prevents potential hazards. Annual maintenance and professional cleaning can address underlying issues and provide safe B-vent operation.
Why Your Gas Fireplace Vent Needs Attention
The gas fireplace vent is pivotal in safely releasing combustion byproducts and maintaining indoor air quality. It is essential to regularly inspect the duct and remove obstructions that might hinder correct gas flow. Maintaining a clear vent pathway ensures that harmful exhaust and carbon monoxide are expelled completely.
Whether you opt for a direct vent, vent-free, or B-vent fireplace, the ideal choice depends on individual preferences and the suitability of your home structure to accommodate one. Don't forget annual cleaning, inspection, and professional maintenance for a secure, cozy ambiance!
Fireplace Experts for Warm & Safe Homes
Revitalize and secure your gas fireplace with the Fireplace Experts, your trusted resource for fireplace cleaning, maintenance, makeovers, and fireplace repair in Toronto. Experience the cozy and worry-free ambiance of a shining gas fireplace that functions flawlessly. Call now and let the Fireplace Experts team take charge of your fireplace needs!